"An adventure may be worn as a muddy spot or it may be worn as a proud insignia. It is the woman wearing it who makes it the one thing or the other." Norma Shearer
Alexandra's Instagram is one I have recently discovered and one I didn't even know I needed in my life but I love it already and love her, she is beautiful and positive. Not to mention all her pictures look insane!! You can find Alexandra on Instagram @alexandradventure
1. Can you tell us something about yourself?
Hello! My name is Alexandra (@alexandradventure) and I'm a 24 year old French and Spanish teacher. I try to make the most of my school holiday time with adventures! I love to travel but with that currently on hold due to Covid-19 I am fully enjoying adventures in my back yard, the Lake District. Water and swimming is my thing so a dip in an ice-cold stream or waterfall is always a feature in my adventures along with hiking, wild camping, wild swimming and cycling. Mostly, I am always on the lookout for hidden swim spots which most people might overlook as they hike past.
2. What is the first memory of an adventure you had? And why does it stand out?
I was lucky because my Dad is very adventurous and would always encourage me and my sisters into the outdoors. One of my earliest memories of adventure was kayaking to the Swallows and Amazons island on Coniston. I used to think it was some form of magical land and we would put charcoal war paint on our faces and run around pretending to fight invaders. When I was younger the rocks to jump off over at the island seemed so high but returning now, they are not so big! These memories stand out as it involved some of my favourite things: family, outdoors, swimming and discovering new places; all of which I still maintain today.
3. What are three things on your bucket list?
-I would love to travel more of South America and learn more about the different cultures and of course put my Spanish to good use!
-Another dream is to sail around the world… might need a bit more money for that though!
-To eventually tick off all the Wainwrights. I'm in no particular rush though, fortunately living nearby means I can pick and choose my days, according to the weather especially.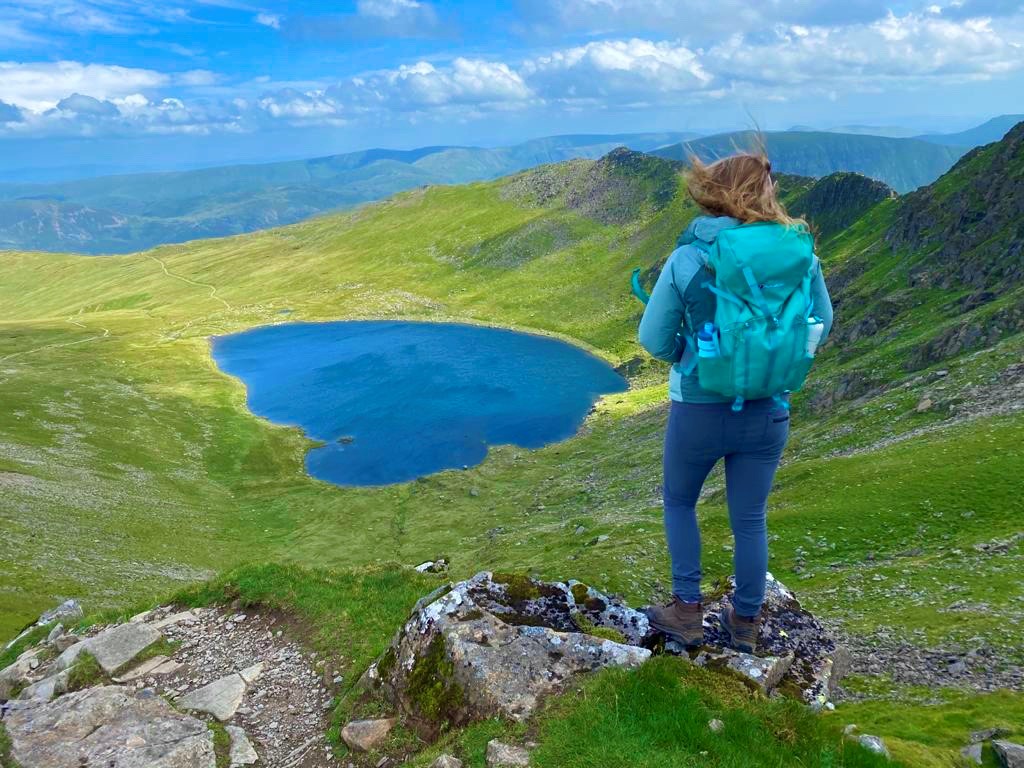 4. Are there any women that inspire your adventures or that you look to for inspiration?
It is difficult to single out anyone in particular but I think that any woman sharing their adventures and getting outdoors is a true inspiration. It inspires me to think that fierce, adventurous women are becoming more of a norm and I love to see how our numbers are increasingly growing. This is particularly important to me because as a teacher, I know that young women are faced with so many different forms of inspiration online and in the media but forms of good influence like those in the outdoor community are making strides to encourage more people into the outdoors and to reap the benefits!.
5. What piece of advice would you give your younger self?
When I was younger, I was very conscious about doing things on my own and lacked confidence when out alone. So, I would encourage my younger self to do those things I want to do but don't have anyone to do them with! Solo adventures are sometimes the best.
6. What advice would you give someone who is just starting their outdoor journey?
I think it is important to feel secure in your abilities before taking on a massive adventure. Definitely start small and work your way bigger gaining knowledge along the way in map reading for example. There are lots of resources online and it pays to do some research as although amazing, there are risks associated with some adventures.
Also, I would recommend looking into sites such as freecycle and freegle as people are often giving away old camping/hiking/outdoor kit. We've been lucky to get a few inflatable kayaks, lifejackets and camping equipment through these sites! I even managed to get a hardly used O'Neill wetsuit which is just amazing!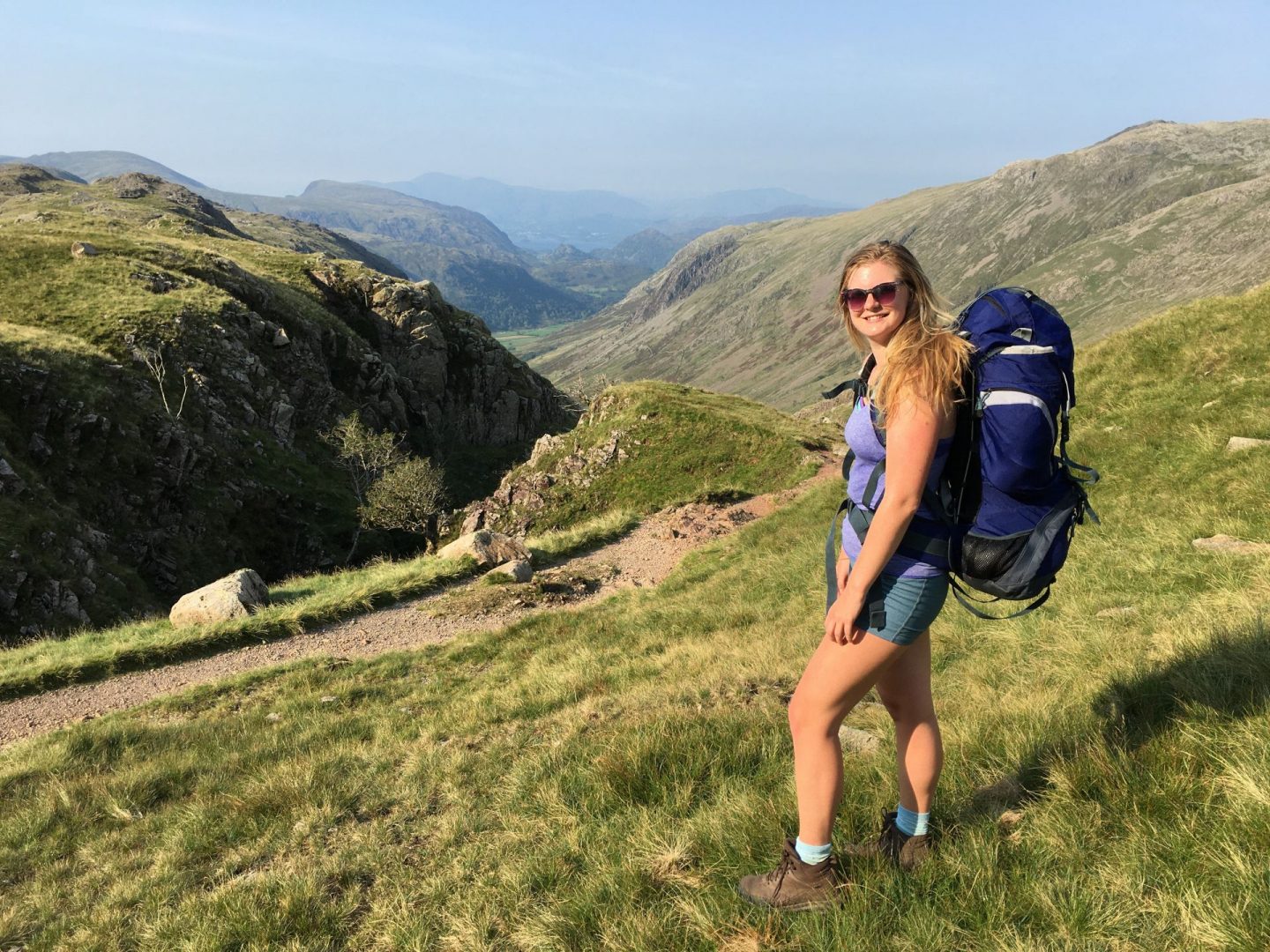 7. What is the hardest adventure/hike you have done and why?
One of my hardest adventures was probably moving to live abroad on my own and not knowing anyone! I have done this quite a few times and it's still challenging but I am getting much better at enjoying my own company and it means I have great friends from all over the world!
8. What is your favourite thing about the outdoor community?
I love how everyone is very supportive of each other's adventures from sharing a post about a member taking on an amazing challenge to even just sharing some great snaps on a story. I also believe it is a very positive space for discussing mental health with many members talking openly about their experiences and how the outdoors may have helped them or being honest about their difficulties. It's extremely important that these issues are spoken about more so I praise the community's members for this!
9. Is there anything you would change about the outdoor community?
So far I wouldn't change anything! I have really enjoyed "virtually" meeting a lot of people and think I have made a few good friends along the way. I love how everyone is keen for a new adventure and I know I could find someone to come along with me for company if I wanted!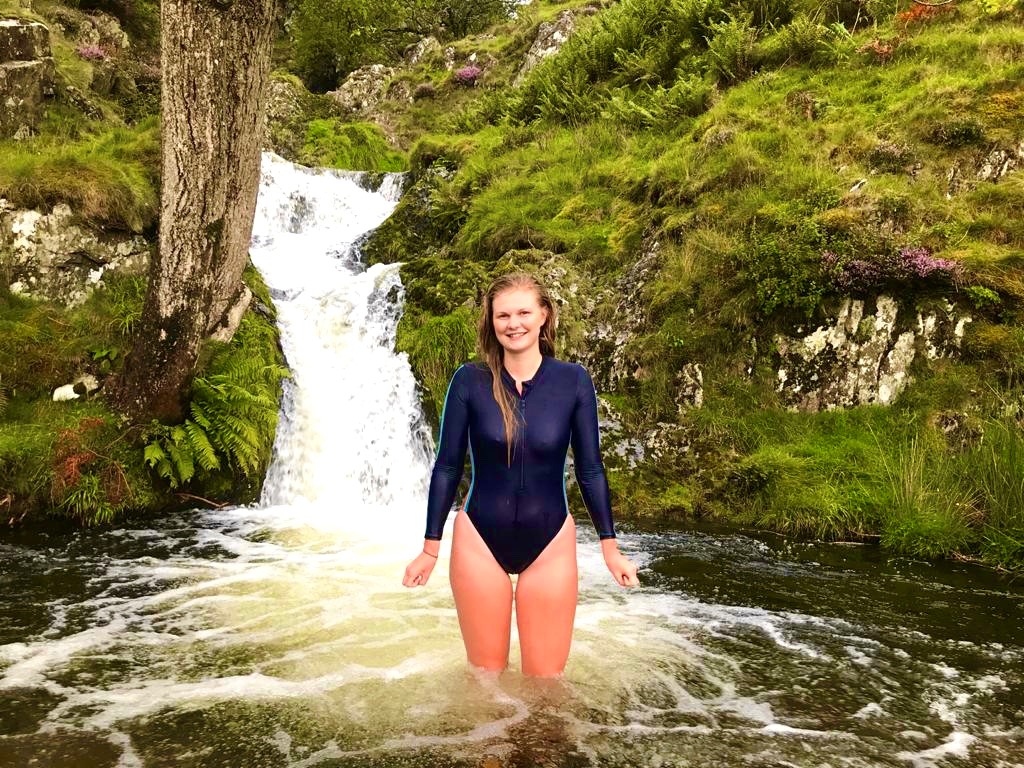 10. Is there a sport/adventure pursuit you would like to try? If yes what's stopping you?
I am really keen to try mountain biking! I think the fear of having an accident or slamming into a tree is stopping me but I should definitely give it a go soon!
11. Has the outdoors impacted your mental health?
Definitely! I personally love to swim and I find myself completely refreshed after a dip in a stream or a lake. I find it almost resets my whole mindset. Just today I was out on a hike and had an incredible moment of just pure happiness that I was on a mountain with beautiful views and almost that nothing else mattered for that time. It really is a time to fully switch off. No signal, no social media, no stress. Just concentrating on the here and now. A true sense of mindfulness.
12. What does a typical adventure day look like for you?
Usually my adventure days start early as I am a super early bird and find it difficult to sleep the night before if I have something exciting planned. I am a bit obsessed with finding amazing waterfalls to swim in so most of my adventures will have been planned to incorporate a swim spot as well as bagging a few Wainwrights on the way. I always try to pack a yummy lunch with some home baked treats to keep up the energy levels. My main adventure buddy is probably my sister as we are both super keen to hike and find beautiful spots off the beaten track together!
A really good adventure day would involve a wild camp, far from anyone else but close to nature!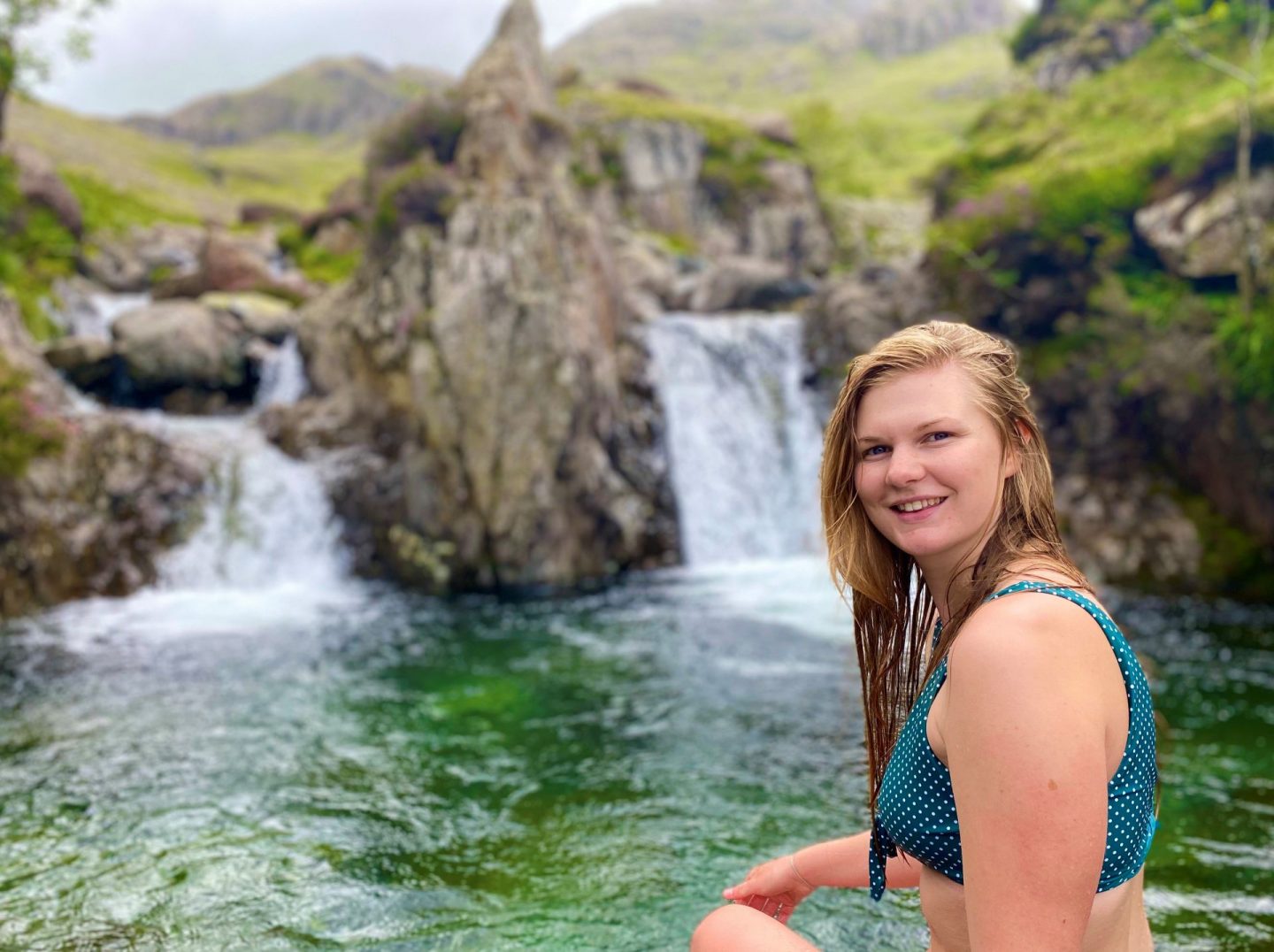 13. What is the one song you would pick to sum up your time outdoors?
May be a bit clichéd but probably Sunset Lover by Petit Biscuit. I don't want to be that person who is all "I knew that song before it was cool" but that is the case, I guess! When I first moved to France this is the song I would hike to and listen to after an evening surf and hearing it now just brings back those memories of warm summer sunsets and beach adventures. Even if I am in a torrential downpour in the Lake District!
14. What three things do you always carry on your adventures?
Extra layers are a must, even in summer! I find even if it is a lovely day at the bottom, the weather can change so dramatically up top.
A map- I actually kind of enjoy map reading and I always have a paper map with me. It makes me feel a certain power, almost like I could go anywhere just using my brain to plan a route. It is also key for scouting out potential waterfall spots.
Swimming costume and towel- I will always be going for a dip!
15. What is your favourite snack while on adventures?
I am a keen baker so if I have time I try to make some cakes or bakes to take with me! I've made Cornish pasties, amazing pasta salads and some fabulous muffins and biscuits. It always puts a smile on my face knowing I have made the treats!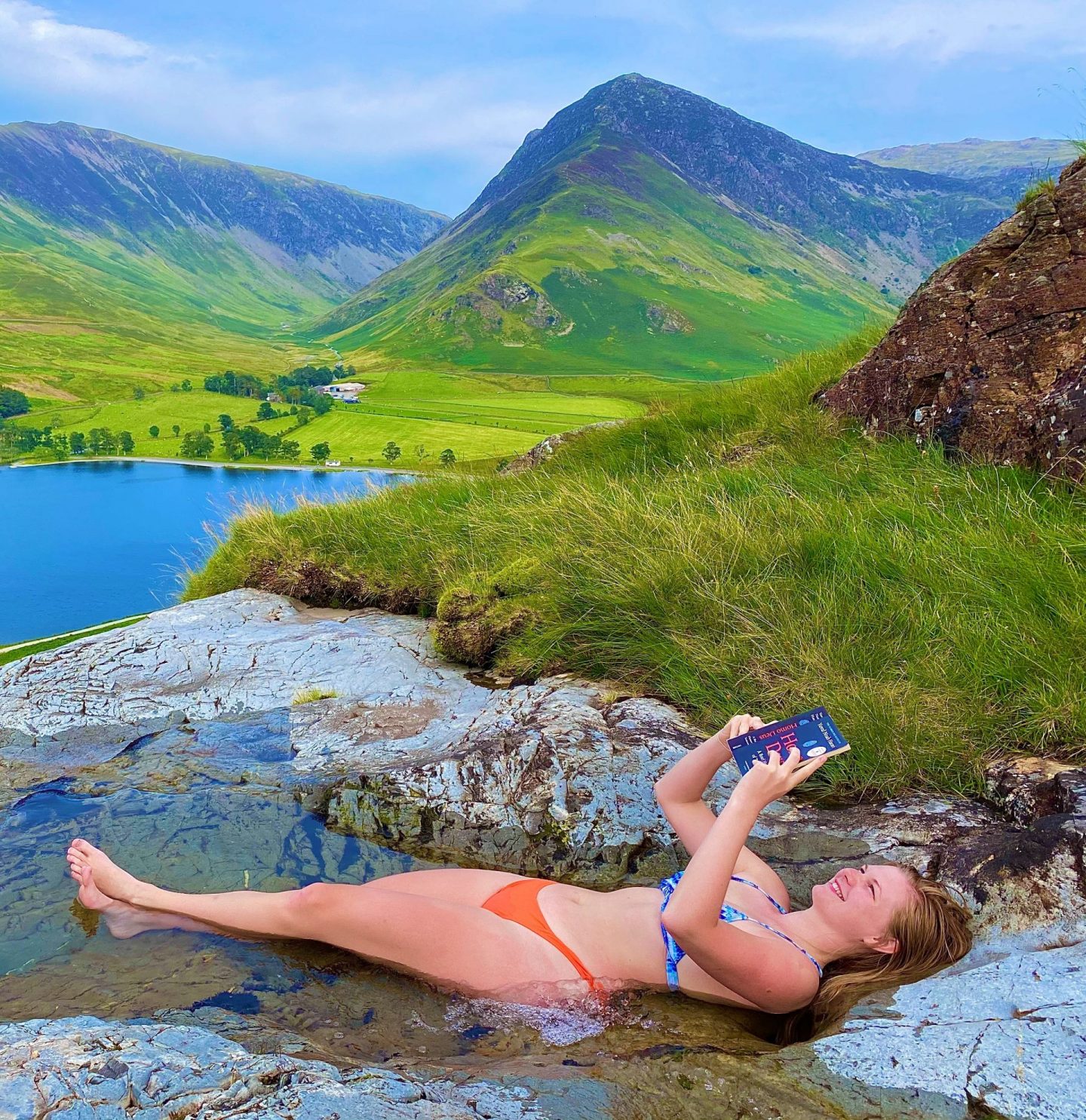 16. What are your three favourite outdoor brands?
Alpkit have some great kit, I love snuggling in my down sleeping bag, it's the best!
Tog24 have some great items of clothing in excellent feminine shapes and fit me well. (Also good sales!)
I recently bought a pair of Acai Activewear trousers and have worn them on all my adventures! Love their splashproof element for rainy lake district days.
17. Are you happy with the selection of women's clothing in the outdoor community?
I am reasonably happy yes, not being able to find a particular item or my size hasn't been a problem. It does annoy me when often women's clothing is pink but that is not really unique to outdoor clothing!
18. Have you ever experienced sexism in the outdoor community?
I don't know if it's sexism per se, but I do find I get some "creepy" comments or messages as a lot of my pictures include me in my swimwear, usually just my back! It just makes me wonder if guys have to deal with the same thing if they post a picture in their swimmers. I have also had to deal with the stares and honking/cat calls when out cycling which does make me feel uncomfortable. On the other hand, I think the outdoor community is very welcoming and keen to encourage women to get involved and find enjoyment in the outdoors. Sadly, a minority insists on sexualising such pursuits.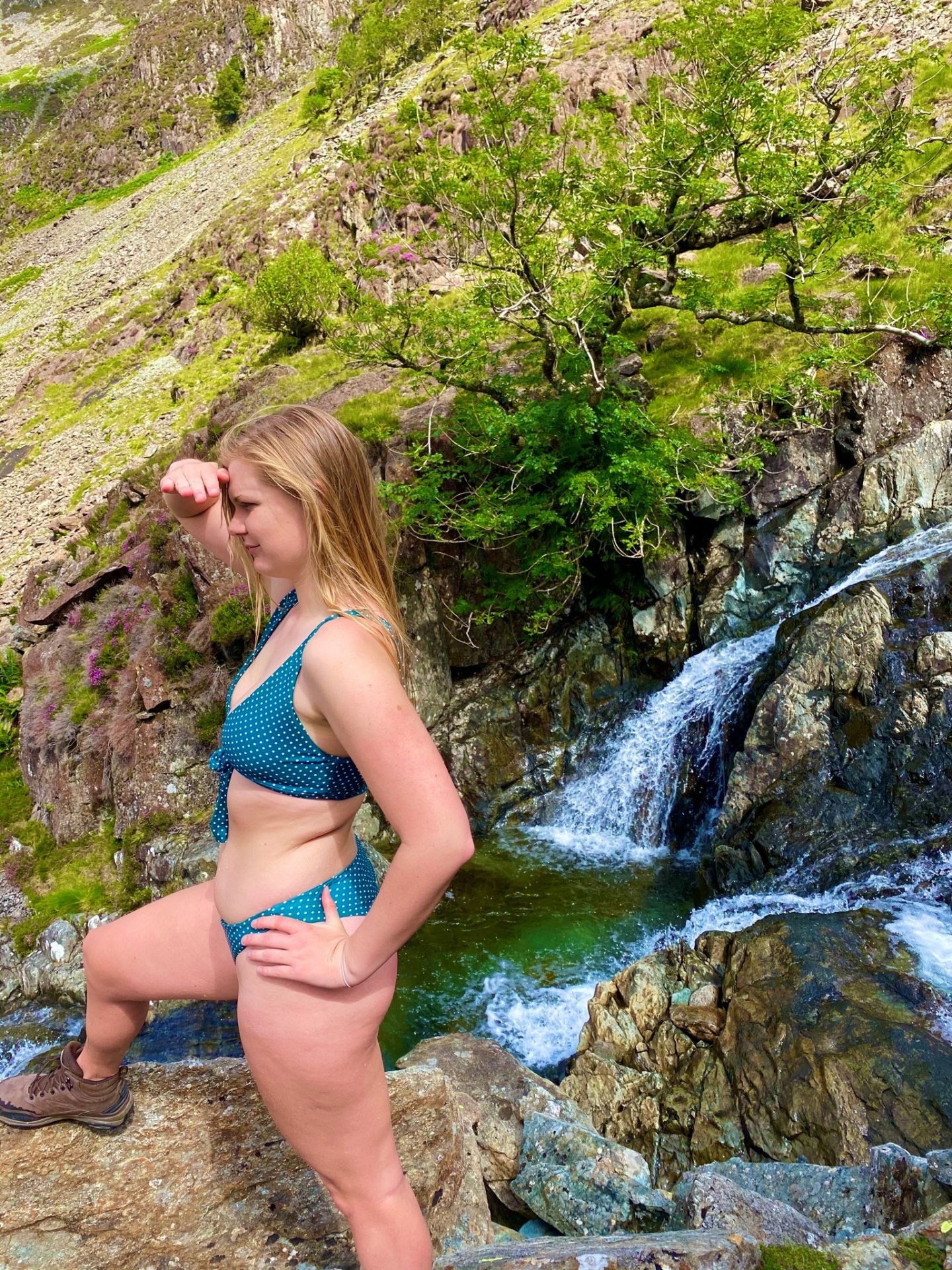 19. How did you keep yourself entertained during lockdown?
I started doing a lot more road cycling which I have ended up loving. From hating hills at the start to powering up them now, I have certainly seen an improvement in my fitness levels.
20. How long have you been wild swimming?
Since I was a child! I've always been a keen and confident swimmer in and out of the pool and have played waterpolo for a number of years. Finding new wild swimming spots, especially waterfalls and little pools along streams is one of my favourite things to do.
21. What advice would you give someone wanting to start wild swimming?
Many people ask me how I deal with the cold which is often the biggest barrier when starting out wild swimming. I always think the classic saying "it's alright once you're in" really resonates here and it's key to push yourself just a little bit for a great reward. Also, I strongly think that the more you do it the better it gets so now I have no problems taking a dip in any weather and I strangely enjoy the cold. If that fails, a wetsuit will never be a decision you regret!
If you're thinking of lake swimming then a float never comes in wrong so others can see you and it gives you something to grab on to. In terms of hunting for wild swimming spots like I do, my advice would be to do some research beforehand, study the map and take it with you. Sometimes the adventure won't pay off but most of the time it really does and the places you can discover will stick with you as they were found by your own determination! Stay safe and treasure the experience!
22. Where are your three favourite places to wild swim?
I try to keep my exact spots quiet as I believe the exploring is a key part of the whole adventure! Some areas in the Lake District I love are: Wasdale, Buttermere and Eskdale.