'In the end, you won't remember the time you spent working in the office or mowing your lawn. Climb that goddamn mountain.' ― Jack Kerouac
I am super lucky to have an Instagram account full of stong, inspirational women, women I look up to, to keep me inspired and motivated to do better! Rose is no expection, not only does she have a life filled with adventures but she is a mother to. All mums just amaze me, as a selfish person I can't imagine how hard it is but on top of raising them Rose fills their lives with amazing experiences too. You can find Rose on Instagram @rose.marie.outdoors and her wellbeing walks on Instagram @nav_trek. for more information check out the Nav Trek website.
1. Can you tell me something about yourself?
My name is Rose, I'm 30 years old, a full time Mental Health Nurse and a mother of twin boys and two pooches! I do have a very busy lifestyle, but I always make time for adventures and hope to inspire and motivate other people with equally busy lives to get outside! My passion is the mountains but I enjoy any outdoor adventures!
2. What is the first memory of an adventure you had? And why does it stand out?
The first memory of an adventure I had was when I was around 8 years old. My sister and I were finally allowed to venture away from our home to a small park not too far away. Here we built a home in the small wooded area; we had a living room and separate bedrooms and played for hours in our little home away from home! We collected dead wood for our fire (no fires were actually lit!) and we found a small stream to collect water (we did drink this but I don't recall getting sick). It wasn't a spectacular or grand adventure, and we were not even very far from home, but it was an adventure all the same!
This remains my ethos, I can be 20 minute or 20 hours from home… but if I am out exploring new places, new activities, learning or leading… it's an adventure! Life itself is one grand adventure!
3. What are three things on your bucket list?
This is a hard one because there is so much I want to see and do and my actually bucket list probably has over 200 strong and growing! In no particular order, I would like to visit Nepal, complete a long distance through hike and ??????????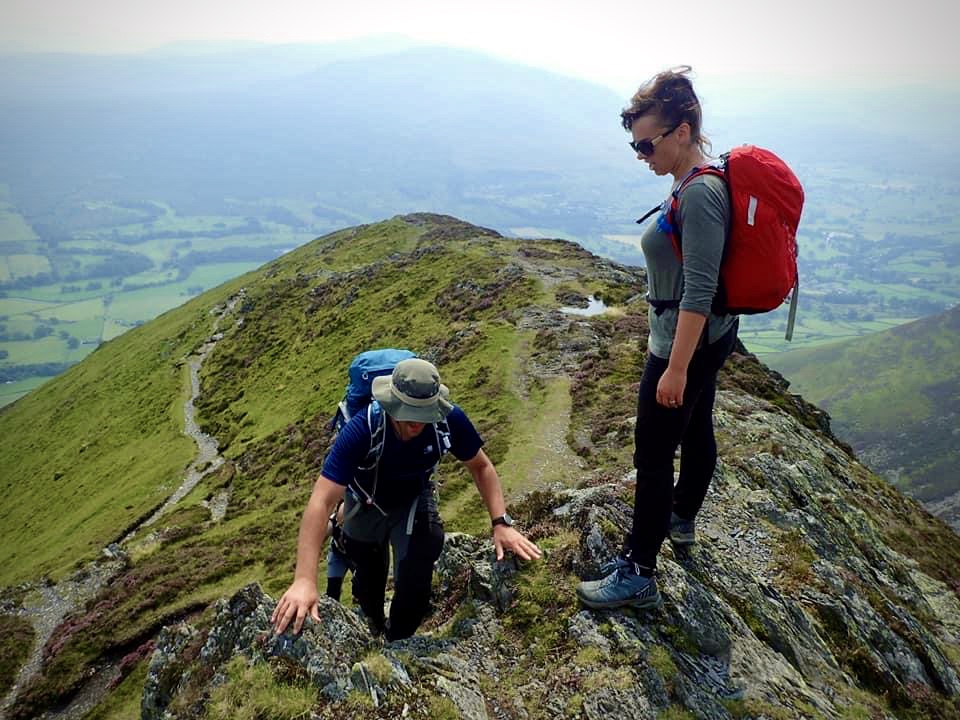 4. Are there any women that inspire your adventures or that you look to for inspiration?
There are so many women who inspire me every day! I am a big fan of Instagram and I have managed to surround myself with a community of incredible, fearless and inspiring women! I recently connected with @kaycoexplore and her feed is incredible! It is real and authentic, fun, motivational and adventurous! I found a lot of inspiration from Kay's IG, she has the most epic list in her bio, you should check it out, I'm planning to create a similar list for myself and I'm hoping to get out and join Kay for some future adventures!
5. What piece of advice would you give your younger self?
Be bold. Be curious. In life, in work and in love.
Ask questions… ask lots of questions! Try new things, try everything if you can! Care less about how your body looks and more about what it can achieve.
6. What advice would you give someone who is just starting their outdoor journey?
Probably the same as the advice to my younger self! There is no such thing as a stupid question, link in with people more experienced and get advice if you are ever unsure.
Remember that every outing is an adventure, look around you with curiosity, the land, the hills, and the history of the villages. Learn about the places you visit, learn about the plants you see, the wildlife you observe. Respect the outdoors, follow the countryside code, and leave no trace! Learn the skills you need to be adventure smart. Be safe and know your limitations. Part of the adventure is in the planning, the learning and the upskilling. Set yourself a challenge or a goal, bag wainwrights, hike the coast to coast or the West Highland Way; whatever you choose just enjoy the journey!
7. What is the hardest adventure/hike you have done and why?
I cannot think back on any hike or adventure as hard, I have pushed myself and I have exceeded what I have thought I was capable of but I would never consider this to be hard because I have so much love and passion for what I do and the tougher the journey the deeper the experience cements itself in my heart!
One that comes to mind was my Ben Nevis hike last summer. It was a last minute, impromptu decision to summit Ben Nevis at 4pm on a Friday afternoon on "rest day". My partner Scott and I had spent the past week hiking in the Cuillin and climbing the Torridon giants; we were tired after consecutive long 10 hour a day hikes and scrambles!
With light hearts and heavy legs we trudged up to the summit along the tourist path. We had an evening dinner date at the highest point in the UK before descending via the CMD arête. While traversing the arête we paused to watch the sunset over Fort William.
Now… Scott will tell you it wasn't as perfect as I paint it, and he'd be right, it wasn't. We were sore and tired and achy before we even set out on this hike; my back was aching on the descent, and, there was an endless boulder field on steep boggy ground to navigate through in the dark.
But when I think about this night… I don't think about the tiredness or the aches and pains. I don't remember the bad feelings or the fleeting moments of regret at 1am when we realised we are still at 3000ft.
I think about huddling up to Scott at the summit as we ate out tuna salads.
I think about how the clouds were rolling over us at the summit with the sun intermittently breaking through.
I think about first seeing THAT view of the North face of Ben Nevis as we began to put some distance between us.
I think about standing side by side with Scott on the arête as we watched the sky turn from blue, to amber, to orange to red and acknowledging at that exact moment that my life is so full and I had never been happier.
It's the experiences that (safely) push us, that truly make us.
8. What is your favourite thing about the outdoor community?
I love the friends that I have made and the inspiration I have found there. I don't have many friends in my day to day life that have the same passions as me… and in all honesty they just think I'm a bit bonkers! They see me traipsing off to the lakes between shifts for a solo winter wild camp on a mountain or heading up to the Cairngorms to hike in the snow and think I'm crazy. Instagram has given me a place to belong and where I can feel 'normal' by surrounding myself with all the other bonkers people!
9. Is there anything you would change about the outdoor community?
No, I think it should be what it is. I have my opinions about certain situations, campaigns and cultures of IG as we all do. But I believe that this should be a space for people to express themselves, log their journeys and adventures, connect with likeminded people and grow. I think IG is a positive place and should be made to be what you want it to be by following the accounts that inspire you to be the best version of yourself.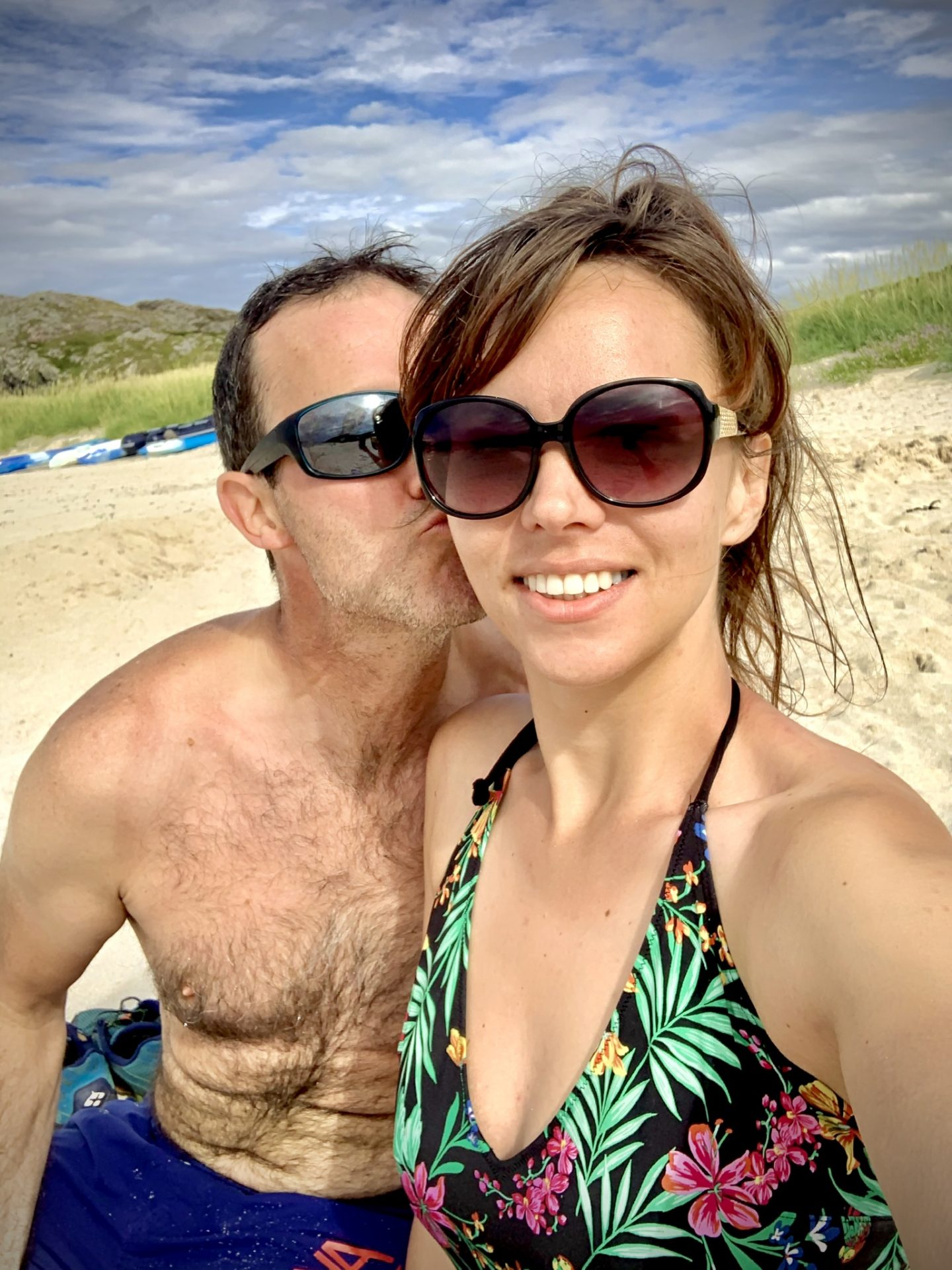 10. Is there a sport/adventure pursuit you would like to try? If yes what's stopping you?
I would quite like to try climbing! I have toyed with the idea of booking on to a beginner's course and may do so soon! I think a lack of spare time is probably the main factor that's stopped me so far… it's also quite an expensive hobby too isn't it?
11. Has the outdoors impacted your mental health?
Without a doubt! I talk a lot about mental health on IG, my past story features and my blog. I am a HUGE advocate for the outdoors and its benefits for mental wellbeing and I could talk for days on this topic!
12. What does a typical adventure day look like for you?
I don't think we necessarily have a 'typical' adventure day… they are always so different and that's the beauty of these adventures!
We always start early and we pre-plan the majority of our adventures… but this is usually only done the night before! We like to explore new routes and new places and often we plan the route to pass something interesting we've spotted when plotting it… this can be anything from a waterfall to a site of geological interest!
On especially hot days we swap hiking the fells for Ghyll scrambling or dips in the lakes, tarns or falls. We have kayaks, body boards and SUP's so we're always prepared for any adventure!
I love being able to look at a map to plan where we will go, rather than relying on the internet for inspiration. It's in the maps that we find the best spots!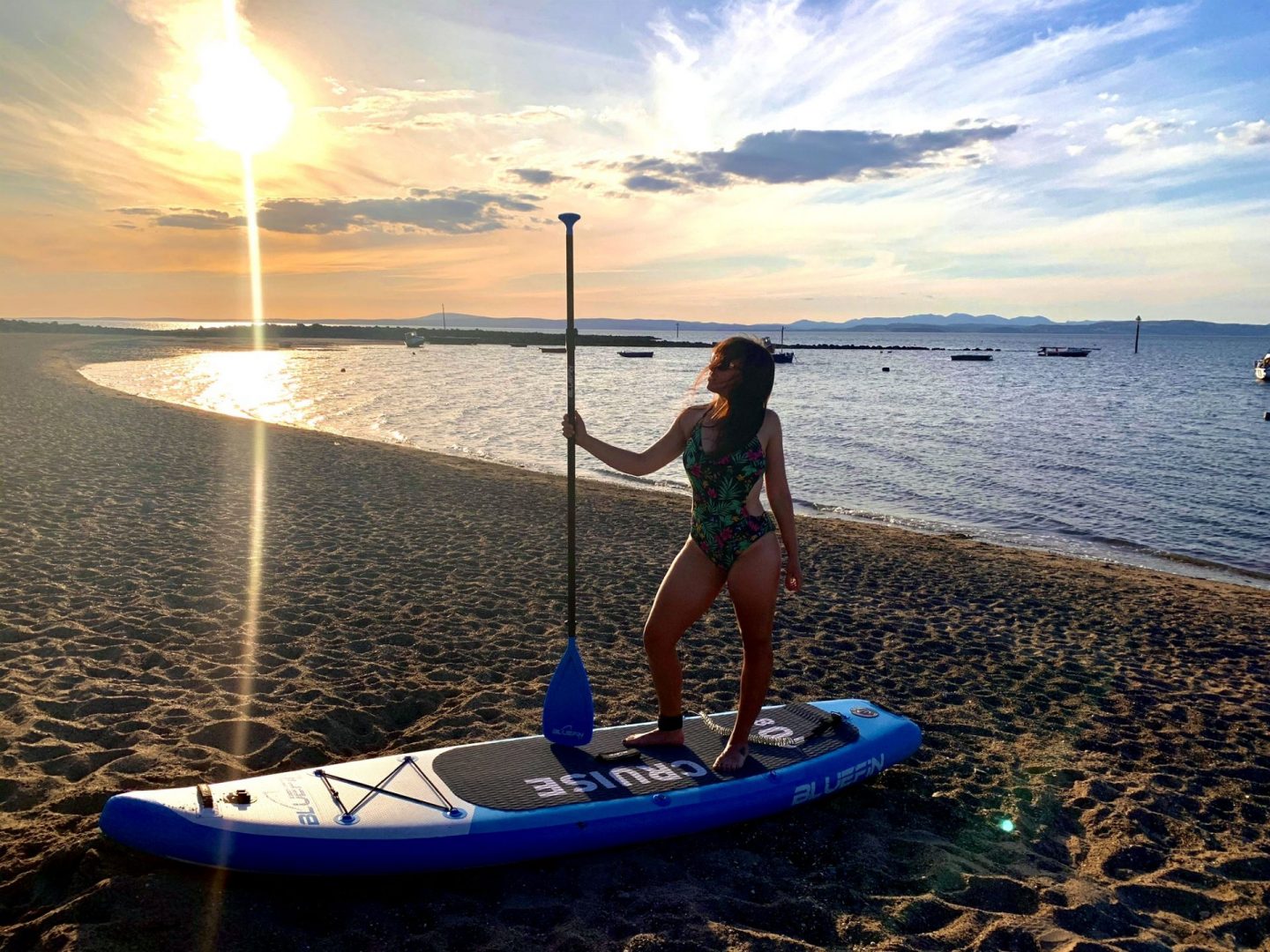 13. What is the one song you would pick to sum up your time outdoors?
Imagine Dragons – on top of the world
14. What three things do you always carry on your adventures?
Well… I carry way more than three things! But the three most important things for me are a map, a compass and my phone
15. What is your favourite snack while on adventures?
Another tough one! I always take sweets out on adventures… this used to primarily be Haribo super mix but the drumstick squishies have been a favourite too!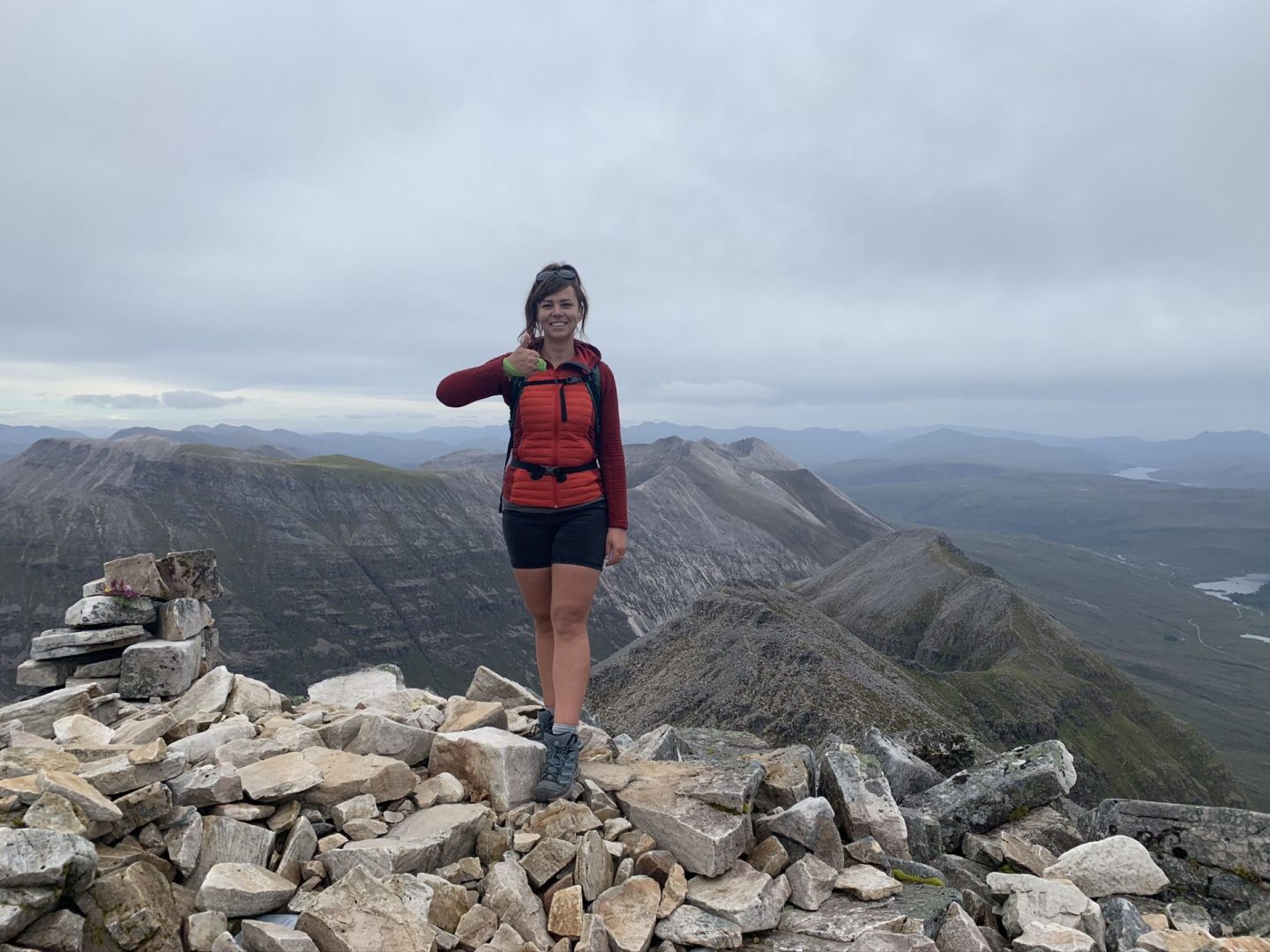 16. What are your three favourite outdoor brands?
Gah! This is a tough one! I'm going to go with Salomon (still the best boots and runners I've ever owned), Craghoppers (I have variations of their trousers for any weather!) and Osprey (Their backpacks are incredible!).
17. Are you happy with the selection of women's clothing in the outdoor community?
Yeah, I am, I think it can be hard at first to find what you like for your individual shape and style but once you have shopped around you learn that there is a lot out there! Brands such as Revolution Race, Ascendancy Apparel and Tog 24 have a great women's range.
18. Have you ever experienced sexism in the outdoor community?
I don't believe I have. I know that historically… as with most things… women weren't allowed up the mountains or in the climbing clubs. However this is certainly no longer the case. Women are undeniably able and strong and brave in the mountains, climbing to new heights, setting records and pioneering new routes.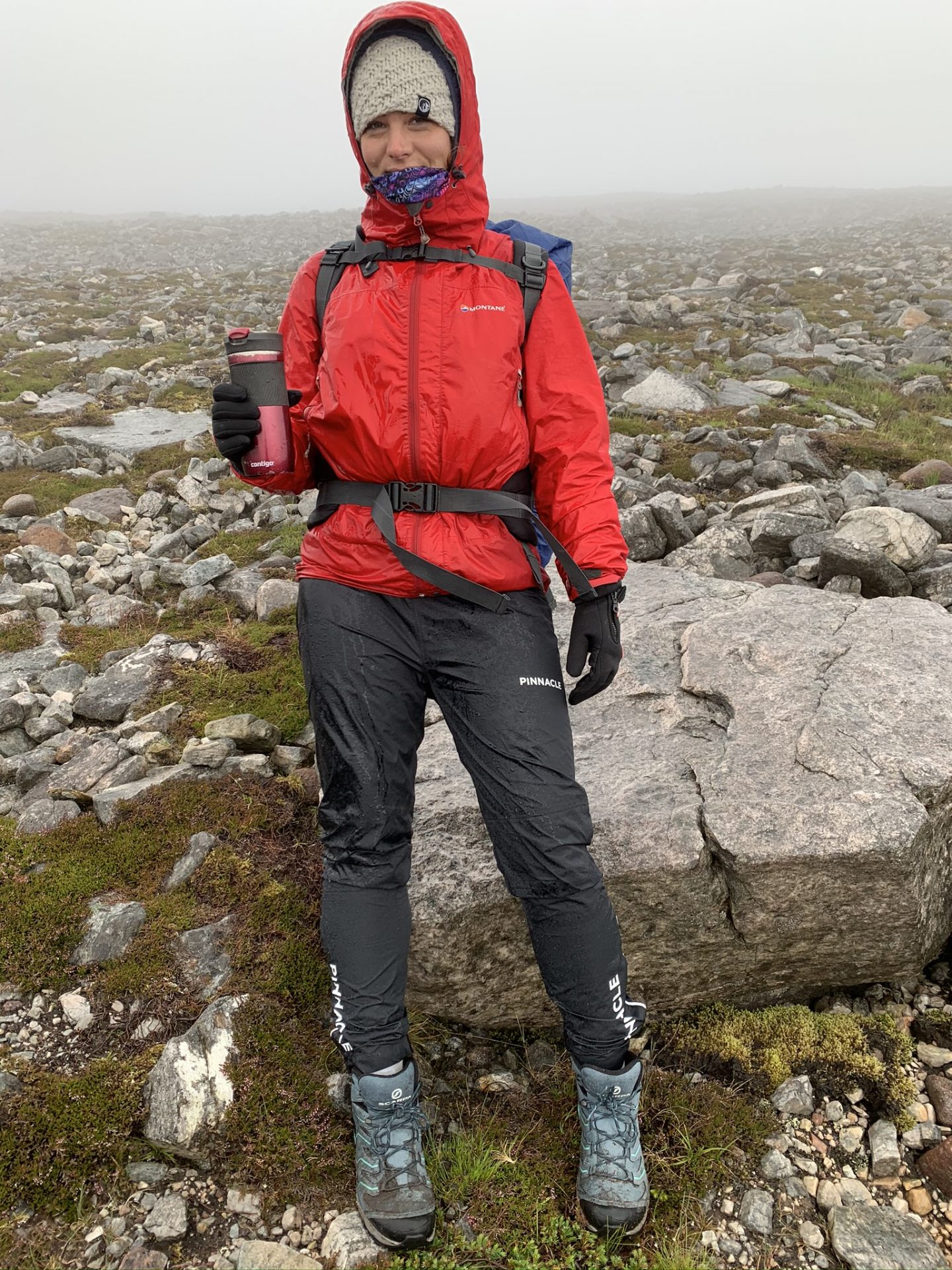 19. How did you keep yourself entertained during lockdown?
I work full time as a mental health nurse so I didn't need to do anything to keep myself busy during lockdown! I actually worked a lot of extra shifts so this was a very busy time for me! It was difficult keeping the balance with my own mental wellbeing at times (as I think we all experienced in our own ways). I'm lucky in that I have a very supportive partner who reads me pretty well and was able to be my personal Get Outside champion during the lockdown! Scott was great at motivating me to explore our local area when I was feeling down about not being able to get to the hills!
Getting outdoors has always been my coping mechanism and how I maintain my balance, it was tough to have this taken away from me when I needed it the most! I talk a bit more about stress management in one of my blog posts.
20. Can you tell us about your blog?
Yeah, so I don't really consider myself as a blogger really, but sometimes I find myself with a lot to say … and more than what I can write on an IG post! We have an ecommerce site for our NavTrek business so I have made a little space on there for myself to post blogs as and when I feel I have something I want to talk about! These are usually around mental health, wellbeing and the outdoors!
21. Can you tell us more about Wellbeing Walks?
Our Wellbeing walks are pretty new to us but the concept isn't anything new! The idea is to promote good mental wellbeing through 'the five ways to wellbeing'. These are essentially your 5 a day for your mental wellbeing!
1. Be active – We achieve this throughout the event as we walk up hills and through the open countryside over several hours. We advise everyone that a moderate level of fitness and ability will be required for attending these walks.
2. Connect – The wellbeing walks allow people to connect with likeminded people who share an interest in the outdoors. It is a great way to meet new people, have interesting conversations and expand your social network!
3. Take notice – The walks will be set in beautiful locations and across varied terrains which will promote mindfulness… It's hard not to be lost in the moment when exploring these beautiful places!
4. Keep learning – We hope that in joining our wellbeing walk people will learn something new, either about the outdoors, walking/hiking or about wellbeing, being mindful in nature and maintaining balance. Conversations is led around wellbeing and how this can be maintained.
5. Give – Giving is the final point in the 5 ways to wellbeing. This does not always mean to give money or material items and can be achieved through giving your time (volunteering) or your support/advice. For our wellbeing walk we achieve this by asking attendees to make a £6 donation on booking. We have decided that the money raised from the walks will be donated to Black Dog Outdoors.
For anyone who is unfamiliar with BDO… They are a registered charity working as a platform to reconnect people to the outdoors. As a signatory of the Mental Health Charter BDO are actively encouraging people to take up outdoor activities and, to help people on their way, they organise recreational events for people to attend at no cost! All activities are led by qualified instructors and mental health first aiders!
Our walks are for anyone to attend, newbie explorers or seasoned hikers. It's a place to come to access the outdoors with likeminded people; to make valuable connections with people and the outdoors!
22. How do you balance adventures and life?
I balance life with adventures!
I believe in quality of life over anything… over material goods, wealth or status. I live simply, I do what makes me happy and I keep my world small. I enjoy my work and I find this immensely rewarding at times but I'm conscious to maintain a good work life balance and I do this by spending my downtime wisely. People often ask me how I have time to do so much and the simplest answer is that I don't! I make sacrifices and I prioritise! I work enough to pay the bills and to fund our adventures, our passion is the outdoors and NavTrek and our downtime is family time!
We don't have a TV connection our house, this isn't due to financial restraints… it's by choice, because we all have too much that we would rather be doing so for the last 3 years my TV hasn't been connected! This isn't to say we don't ever watch TV, we all love a good mountain/adventure documentary from time to time!