"Wild woman are an unexplainable spark of life. They ooze freedom and seek awareness, they belong to nobody but themselves yet give a piece of who they are to everyone they meet.
If you have met one, hold on to her, she'll allow you into her chaos but she'll also show you her magic." ― Nikki Rowe
It's not everyday that I fangirl but today is only of those days. Nic was one of the first outdoor accounts I started following on Instagram and I was tickled pink when she followed me back! She is an absolute inspiration for me going out and pushing myself to try new experiences. If you don't follow Nic you are truly missing out. You can find her on Instagram @adventurer.nic
1. Can you tell us something about yourself?
Hi I'm Nic, aged 35 and I'm a peak bagger! A peak bagger is someone who enjoys ticking summits off a spreadsheet list almost as much as they do hiking each mountain. I love human powered adventure, where your own grit, determination and motivation is what drives you forward. What I also love about hiking is that you can see and appreciate so much more of the natural environment when you're at walking pace
2. What is the first memory of an adventure you had? And why does it stand out?
I absolutely loved going white water rafting in Snowdonia. I'd never done anything like it before and I haven't since but it was absolutely thrilling.
3. What are three things on your bucket list?
I'm looking forward to walking the length of New Zealand on Te Araroa. The New Zealand national trail is 3,000km in length and it will take a few months to walk from the tip of the north island to the tip of the south island. Secondly, I'd love to hike a classification of mountains in Scotland called the Corbetts – these are the mountains between 2,500ft and 3,000ft in height that have 500ft of descent on all sides. Finally, I'd love to do a trek above the Arctic Circle at some point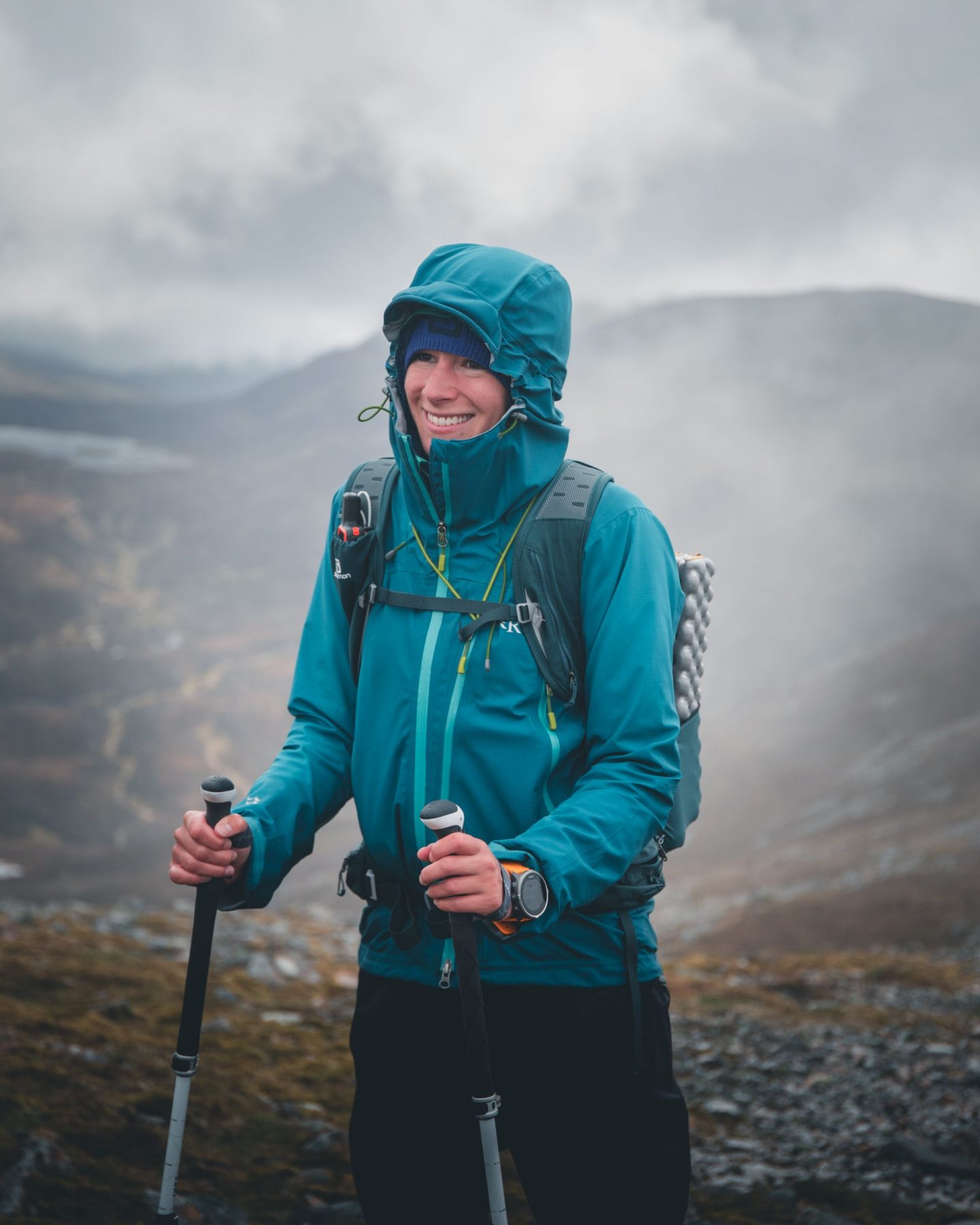 4. Are there any women that inspire your adventures or that you look to for inspiration?
A big inspiration of mine is Anna McNuff, she's a bundle of positive energy and she pushes herself beyond her comfort zone to test her physical limits. She's really approachable and inspiring. I highly recommend other women checking out her challenges – such as running 90 barefoot marathons across Britain in 2019 and cycling 5,500 miles through the Andes. She's awesome.
5. What piece of advice would you give your younger self?
I took life far too seriously when I was younger, I worked hard at University, achieved a first class degree and then went straight into a series of serious jobs. If I could talk to my younger self I'd tell her she didn't have to do what everyone else was doing, that it was OK to take a moment to assess what she really wanted and to think for herself. I'd tell her to travel, spend more time alone and become comfortable in her own skin.
6. What advice would you give someone who is just starting their outdoor journey?
Use social media to befriend people who are into the same outdoor pursuits that you are. I'm lucky to have met some wonderful people over the last 3 years who have become really special friends. It was Instagram that brought us together. If you're into hiking, then I highly recommend you go on a navigation course which will open up so many doors for you and build your confidence to adventure anywhere in the UK. I went on a 'Straight to Silver' course earlier this year with a company called TeamWalking which was hugely empowering.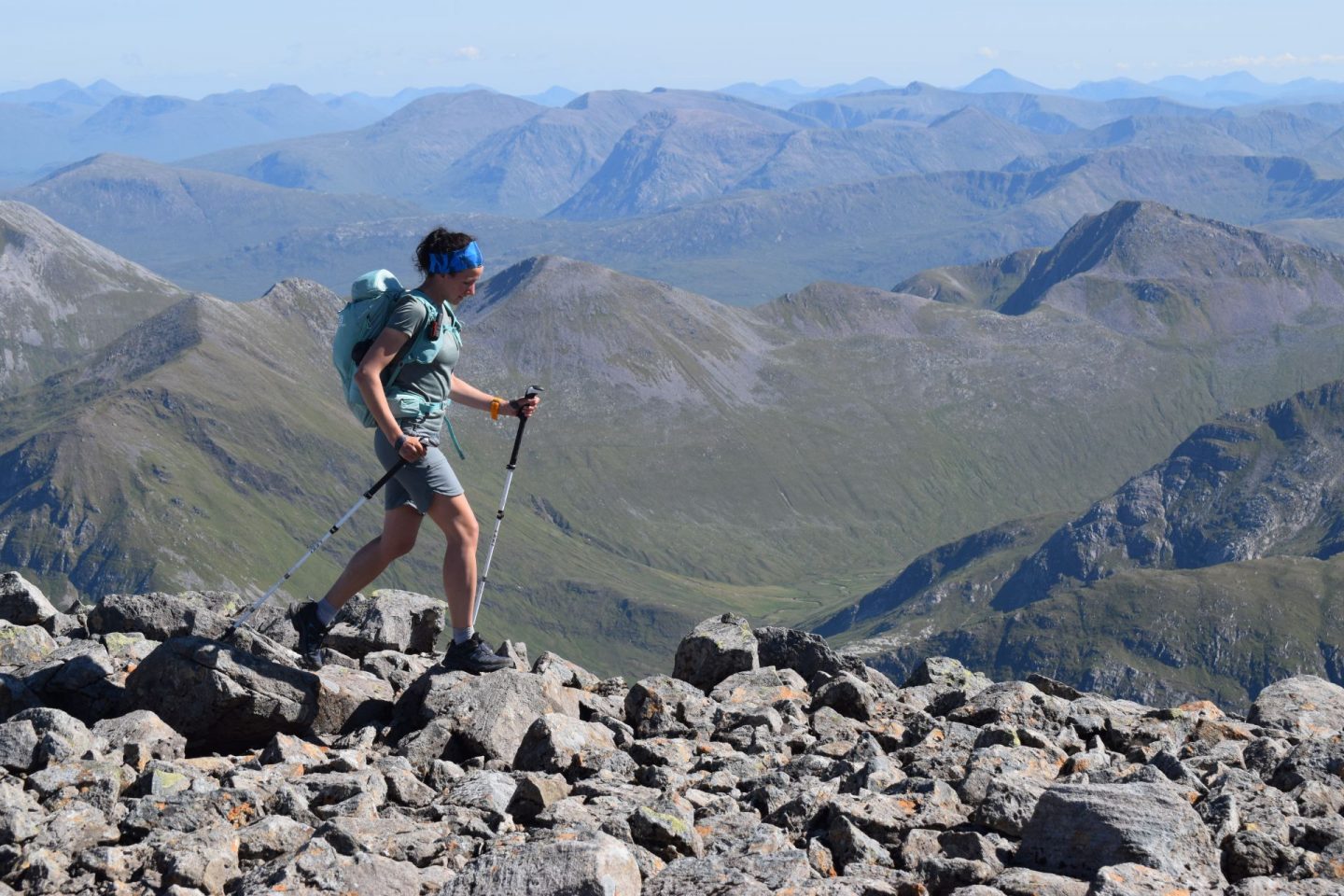 7. What is the hardest adventure/hike you have done and why?
The hardest adventure was my 6-month Munro bagging journey last summer. I hiked over 2,000km and ascended over 100,000 vertical metres to the summits of 282 mountains in Scotland. It was hard because for a good deal of the time the weather was poor, the midges were feasting on me every day and it was mentally and emotionally challenging being away from my family and friends for so long. But the sense of achievement at the end was wonderful.
8. What is your favourite thing about the outdoor community?
The best thing about the outdoor community is when everyone comes together to do good – organising group walks where less experienced people can learn from others, coordinating group litter picking walks, gifting kit to charities, coming together to fundraise, sharing hiking route tips and just genuinely supporting each other's ups and downs.
9. Is there anything you would change about the outdoor community?
Sadly, COVID-19 caused a divide in the outdoor community on both Instagram and Facebook this summer and many seemed to be quick to judge the actions of others. What one person would deem to be risky, disrespectful or against government, National Park, BMC or Mountain Rescue guidelines, another would think was perfectly safe, acceptable and measured. This resulted in a few very public displays of angst. Someone may have seen something they disagreed with last year and simply unfollowed the account, whereas now people are more quick to challenge behaviour that they deem to be inappropriate. It would be nice if there was less aggression/sniping and more politeness but maybe I'm living in a dream world!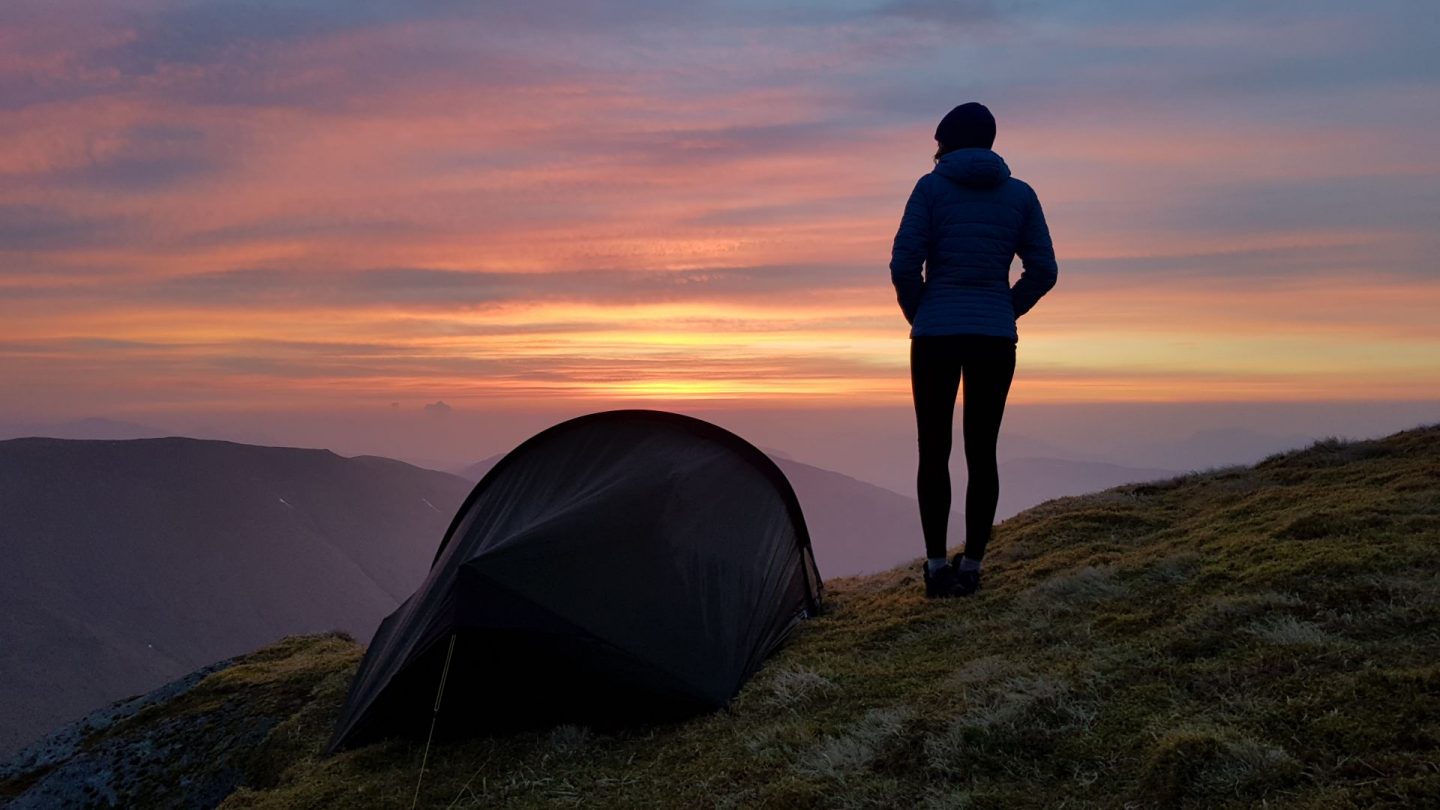 10. Is there a sport/adventure pursuit you would like to try? If yes what's stopping you?
I've never done a long distance hike and I really want to. By the end of this year I'll have done at least one long distance UK hiking trail. I've been on multi-day hiking/camping trips but they have all been less than 100km in distance over a maximum of 4 days and I'd love to do more.
11. Has the outdoors impacted your mental health?
I've never met a single person who believes the outdoors has been detrimental to their mental health. I certainly feel at my happiest and calm in the outdoors and use time in nature to get the headspace I need to cope with life's challenges. The outdoors is also great for physically exhausting you so that you can sleep well at night.
12 What does a typical adventure day look like for you?
At the moment, I decide which new hills I'm going to hike, check the weather forecast (whilst simultaneously sending a prayer up to the mountain weather gods), I download the offline maps on my komoot app and head out into the hills either alone, with my boyfriend James or with some friends. During my Munro bagging challenge last year I was in a constant cycle of wake > eat > hike > eat > sleep every single day!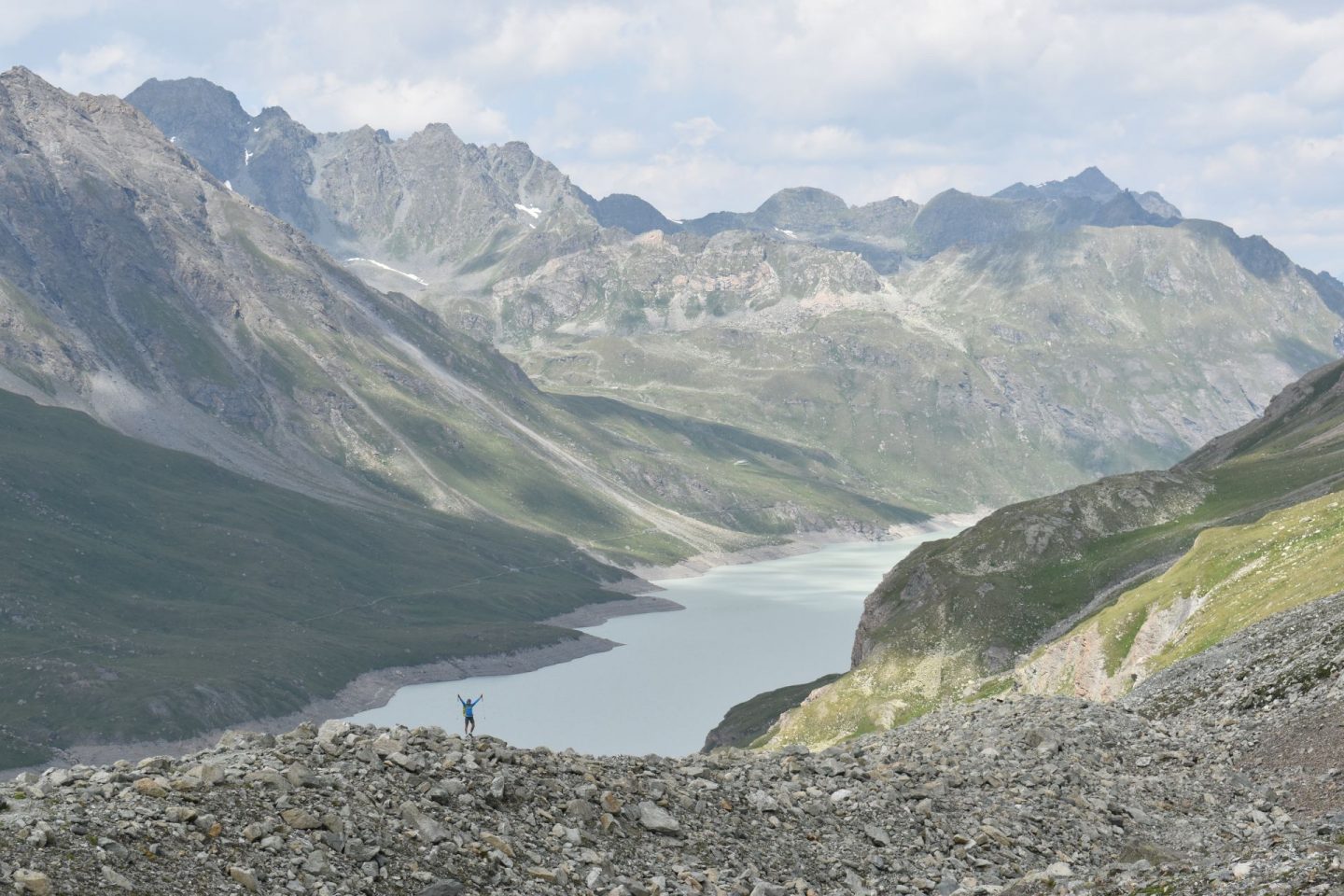 13. What three things do you always carry on your adventures?
I carry my phone so I can capture the highlights of my adventure on komoot and share them with the outdoor community. I also like to carry emergency cheese – nothing gives me an energy/happiness boost like cheese does! And finally, I carry waterproofs even on the sunniest of days, because, well, it's Great Britain – we're the champions of unpredictable weather!
14. What inspired you to climb all 282 Mouros in 6 months? Was the plan to do it in 6 months?
I had previously hiked the 214 Wainwrights of the Lake District and this seemed like the next natural progression. It was more challenging as the Munros are much bigger mountains and I planned to hike them over a much shorter time period. I also wanted to explore Scotland and challenge myself on tougher scrambles and the Munros fit the bill.
15. What were the hardest obstacles to over come with them?
Surprisingly, the technical days ended up being the easiest as we did them in good weather and they tended to be day walks so we were well rested either side of them. The hardest were the long days, sometimes walking over 20km just to bag a single Munro. The bad weather days were also hard – we had many rainy days, strong winds and even thunderstorms to dodge. I also struggled with the little nasties – the ticks and the midges who seemed to really enjoy the taste of my blood!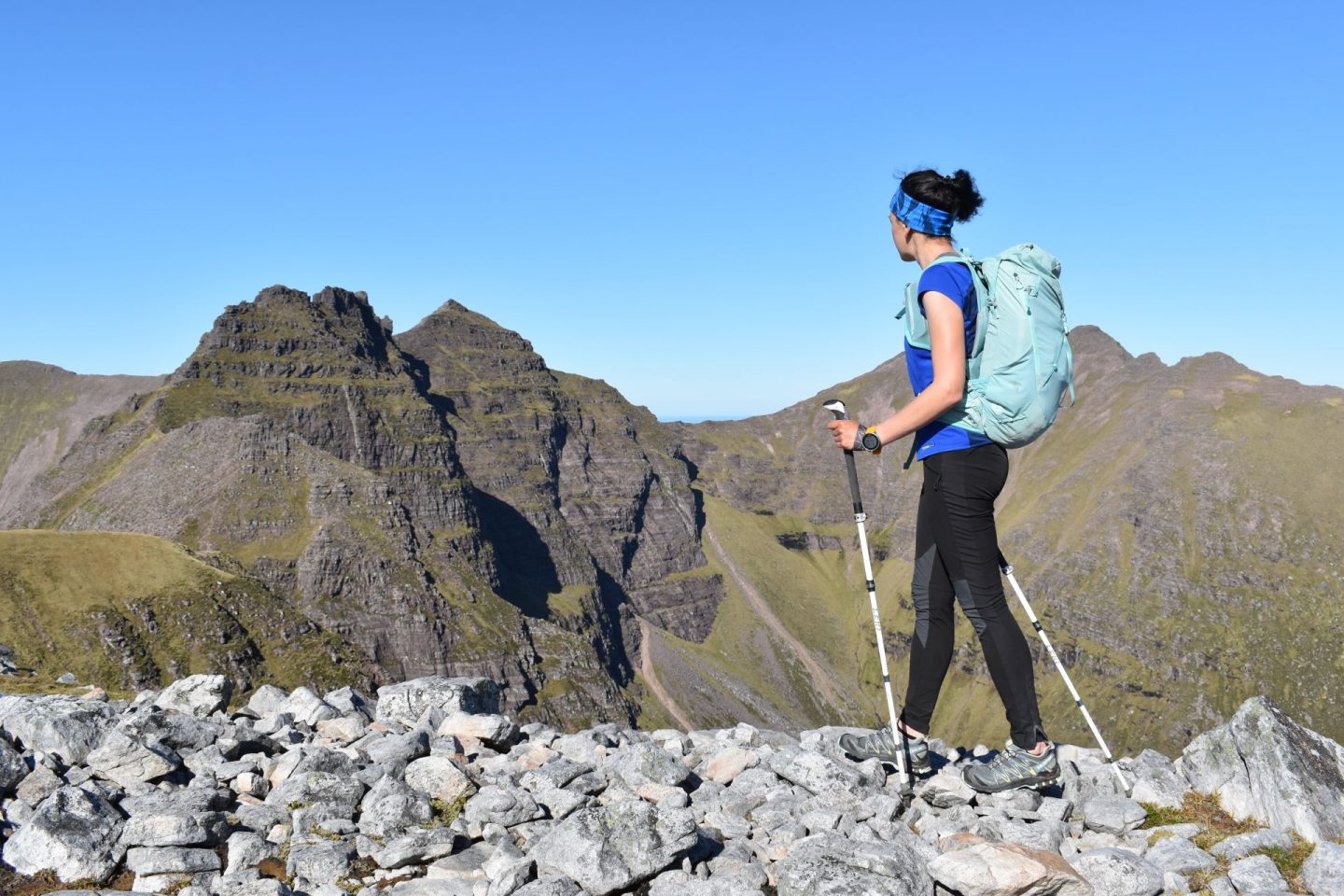 16. What inspired you to climbed all 214 Wainwrights? And which is your favourite Wainwright and why?
Firstly, I set myself the challenge of hiking the 10 highest mountains in England. It was this that naturally led me into Wainwright bagging, I simply didn't want to stop after 10! I have many favourite Wainwrights but my number one is probably Low Fell. It's not the highest but it's always quiet and has wonderful views over Crummock Water towards Buttermere.
17. What are your top three favourite outdoor brands?
This is a tough question, I wear ACAI Activewear trousers which are great as they're flattering, stretchy and water resistant so can withstand an unexpected shower. I love Gossamer gear rucksacks which are great if you're getting into lightweight adventuring. My favourite tent is my Terra Nova Southern Cross II.
18. Are you happy with their selection of women's clothing?
ACAI make clothing exclusively for women and they've really filled a gap in the market for stylish, flattering but functional base layers and trousers. They're designed specifically for women and you can really tell. I LOVE bright and colourful clothing so my winterberry ACAI trousers are my favourite.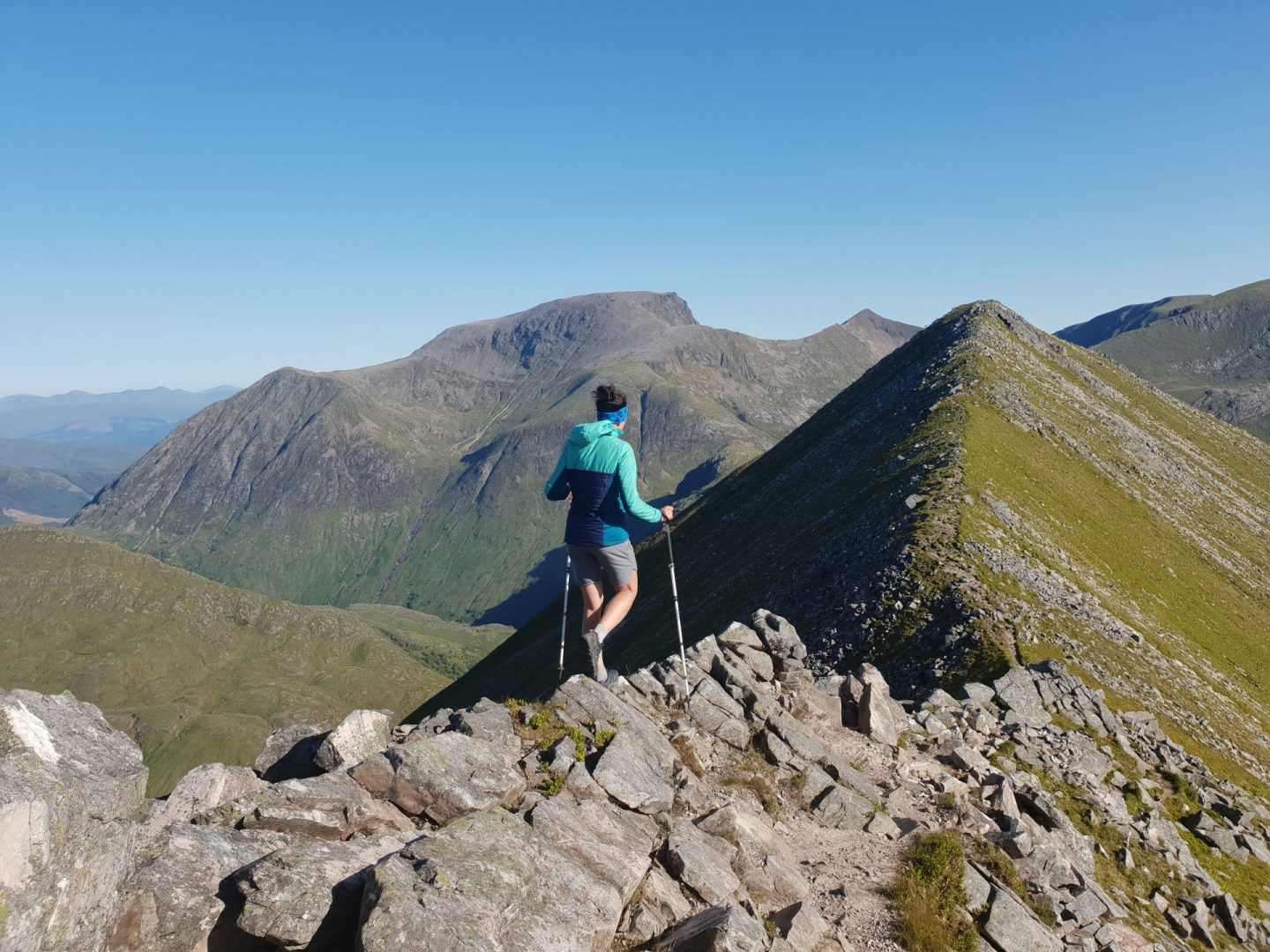 19. How did you find lockdown? Did you discover new ways to have adventures?
I think I coped surprisingly well with lockdown. After living quite nomadically for a year, it prompted me to rest and settle in one place for a while, so I took the opportunity to recoup and put on some weight that I'd lost during my Munro challenge. I had plenty of doorstep adventures within the restrictions, I'm currently living on the edge of the Lake District National Park so I had lots of beautiful countryside nearby. I really felt very fortunate to still be able to hike at low level looking up at the mountains.
20. Will your adventures changes after Covid-19?
I'm still avoiding popular places and overseas travel. I'm currently hiking the Outlying Fells of Lakeland which are 116 tops in a book by Alfred Wainwright. These are a fantastic option for anyone looking for quiet walks in the Lake District that don't start in the honey pot areas. They still have fantastic views to the higher mountains but sit on the fringes of the National Park.
If you missed the links in the post you can find Nics Outlying Fells of Lakeland routes here. And her Munro routes here.