"Home is a shelter from storms-all sorts of storms."-William J. Bennett
These are currently weird times!! With most of the world self- isolating or in lockdown it's hard to imagine this is ever going to end! For many of us this is a world we aren't used to or even like. I have never thought about the fact that I can just nip out whenever I want, I can travel and I can nip an hour down the road to climb mountains. In short I took what I could do for granted! Staying positive and hoping this will be over before we know it I have been getting creative at home, mainly because I'm bored and I miss people!! There is only so much Tik Too you can watch and so much hold music you can listen to before you start to go a little mad!! I'm also considering that when this is all over I should move closer to the sea, it's been my dream for years and now without being able to visit the sea my heart is breaking.
Desperate times call for creativity! Or at least for looking on social media and seeing what everyone is doing to get through this!! The #stairchallenge being the most popular go to activity, turns out that you can climb a mountain without ever leaving your house, already not the fittest person in the world my big worry is that without my weekly hiking fix my fitness levels are going to plummet leaving me back at the start of my fitness journey when we can go out again!! So I discovered that if climbed my stairs 394 times I would have climb the equivalent of Scafell Pike in the Lake District, didn't seem so bad!! And in honest truth it wasn't half as bad as I imagined it would be!! Although I could have done with a better view!!
After working up a sweat I decided to take a little dip! No swimming pool, no problem!! But first things first I had to find and clean out a wheelie bin!! I live in a row of terrace houses so I popped my head out of the back gate, found an empty bin and bought it into my garden!! Technically it had no numbers on and it was right outside my gate so I'm sure no one will miss it!! Cleaning it was easier than I thought, couple of buckets of hot water, fairy liquid and a yard brush and it was good as new!!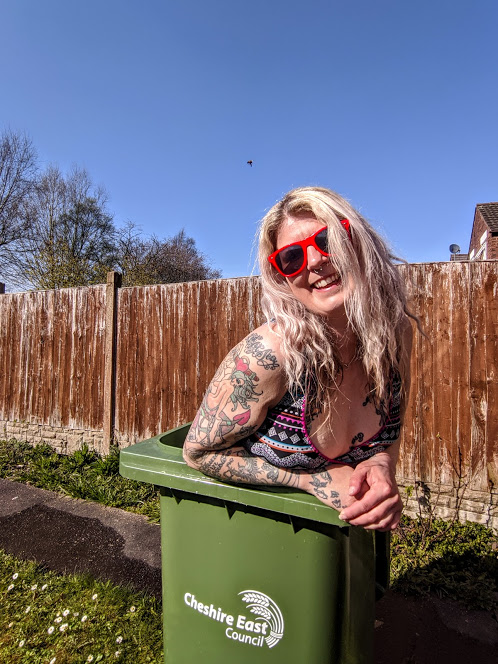 Turns out a wheelie bin is the perfect place for a quick dip! I really didn't want to get out of it the only thing I was missing was a glass of wine! Within seconds you forget you are in a bin and just enjoy the the water!! (Also my house doesn't have a bath tub only a shower so this really was heaven) I'm pretty sure I stayed in for about an hour, my neighbours must think I'm insane!! This is now my go to activity through self Isolation!!
After my first day of adventure I decided to take it easy on day two of isolating, this is a marathon not a sprint after all!! What better way to relax then a picnic and making chocolate cornflake cakes in your garden!! I dug out my camping stove and headed out into the wilderness that is my back ground. I normally have someone come and do the background for me as I don't have a lawn mower so another couple of weeks and I will have my own jungle out there!! I put some music on, melted chocolate and just listened to the birds sing under the lovely warm sun. Only once the nation has to stay in does the sun come out!! Although I would normally be at work so I'm still taking it as a win!!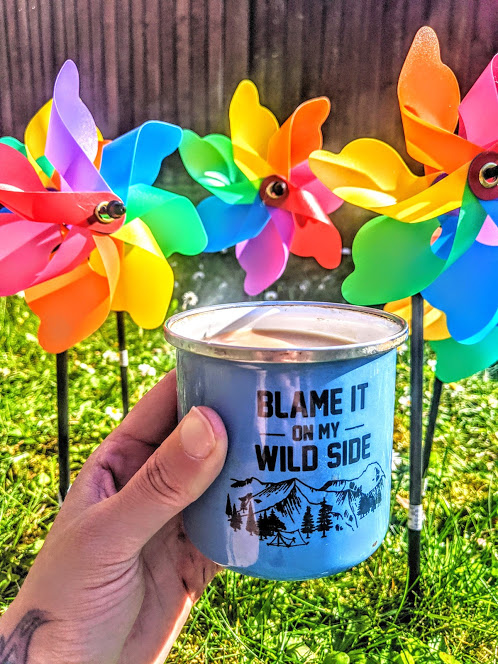 Hope you are getting through this and keeping your sanity in check! Let me know below what you are doing to get through self Isolation!