"I am happy out here. Messy hair, dirty feet & wild water on my skin. Out here with the wild things; this is where I belong." — Brooke Hampton
Every once in a while you are lucky enough to bump into one of your soul mates! Only 3 months ago I met this beautiful lady on a Yugen meet up in the Peak District and it was love at first giggle! Honestly, this woman is my sister from another mister, as an over-sharer, I have a habit of scaring people off! Like you meet me and I will spill my deepest darkest secrets and my life story in the first 5 minutes which tends to scare even the strongest of people off! Once in awhile, I meet someone who butts in to tell me their life story at a hundred miles an hour and I bloody love it!
So you can imagine my excitement when she messaged me asking if I wanted to share some wine up a hill in the Peak District at sunrise. I mean she had me at wine! You should probably know now this post is going to be mainly me gushing about Chrissy, sunrise, and wine (sorry not sorry).
Win hill rises to a height of 462 meters (1,516 feet), Win Hill Pike (pictured left), a small conical shaped crag, known locally as 'the pimple' is situated at the summit. Win Hill is connected by a ridge to Kinder Scout.
If there isn't a trig involved I just don't want to know!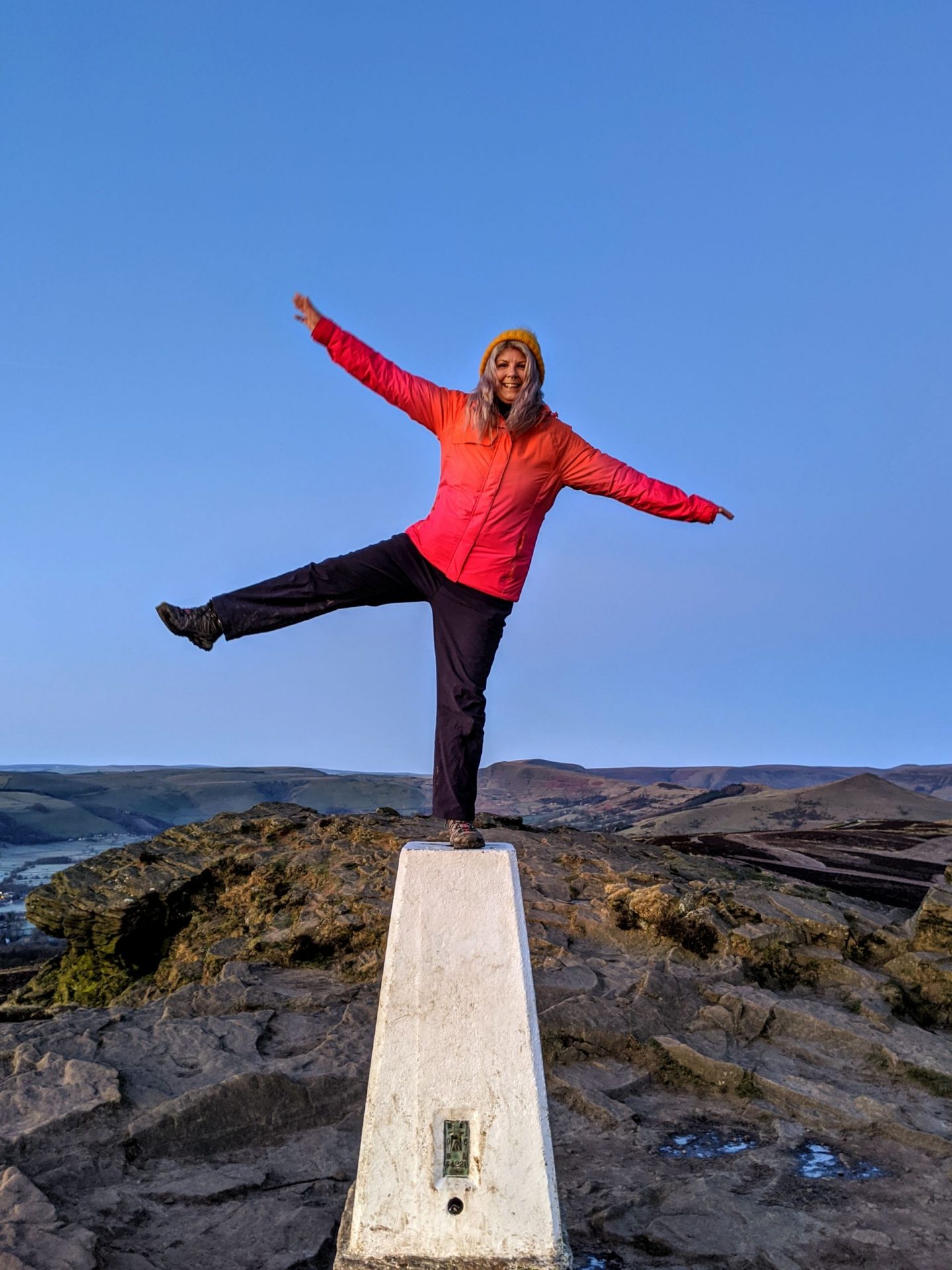 Solid piece of life advice, don't be friends with people who don't believe in you! This trig is about 5″10/11 off the floor and I didn't think I could get up. But with some cheerleading, I got up on top and it became not only my highest trig but the first one I managed to stand on!
Dancers pose or funky chicken?
I can safely say the 4am alarm was worth every yawn, I am always bummed out that there is never a good sunrise when I hike in the Peaks, turns out the little baby Jesus was on our side! Makes sense really, why won't he reward our idea, after all, he turned water into wine!! Therefore the little baby Jesus wanted us to drink wine and it would be rude not to!
We found a rock to shelter under, opened the chocolate, wine, and veggies (I was being all fancy pants with veggies and hummus). Sat like naughty schoolgirls we enjoyed the view with an occasional head popping over the above rock to see who was there, we very nicely greeted them with big smiles!
Half a bottle in and quickly losing the feeling in our fingers we packed up and headed off on our adventure!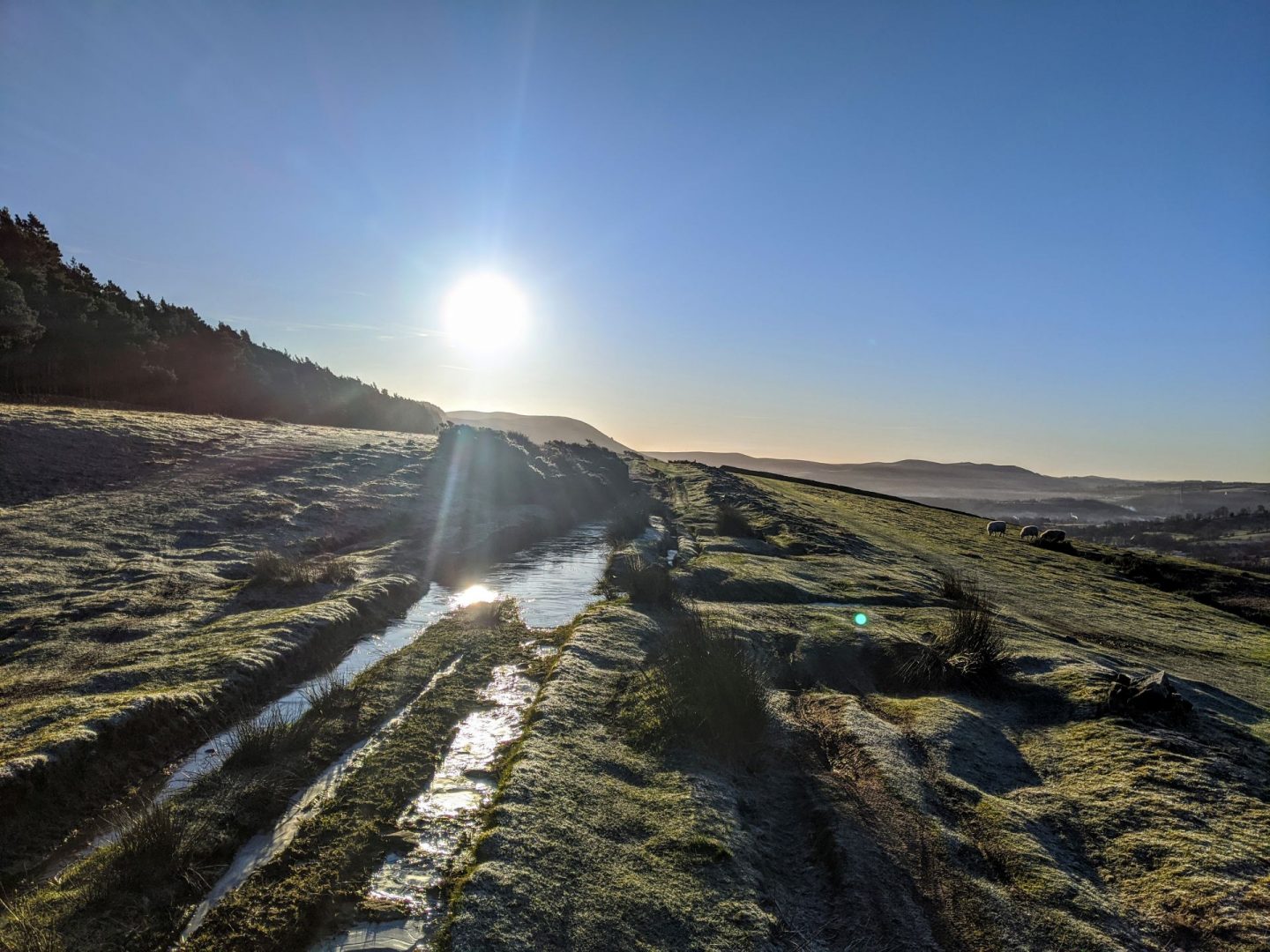 Local legend states that Win Hill derives its name from the Dark Age Battle of Win Hill and Lose Hill which is said to have been fought there in 626 AD. The army of Prince Cwichelm and his father, Cynegils, King of Wessex, stationed on nearby Lose Hill and probably aided by Penda, King of Mercia, advanced on the Northumbrians, who were based on Win Hill.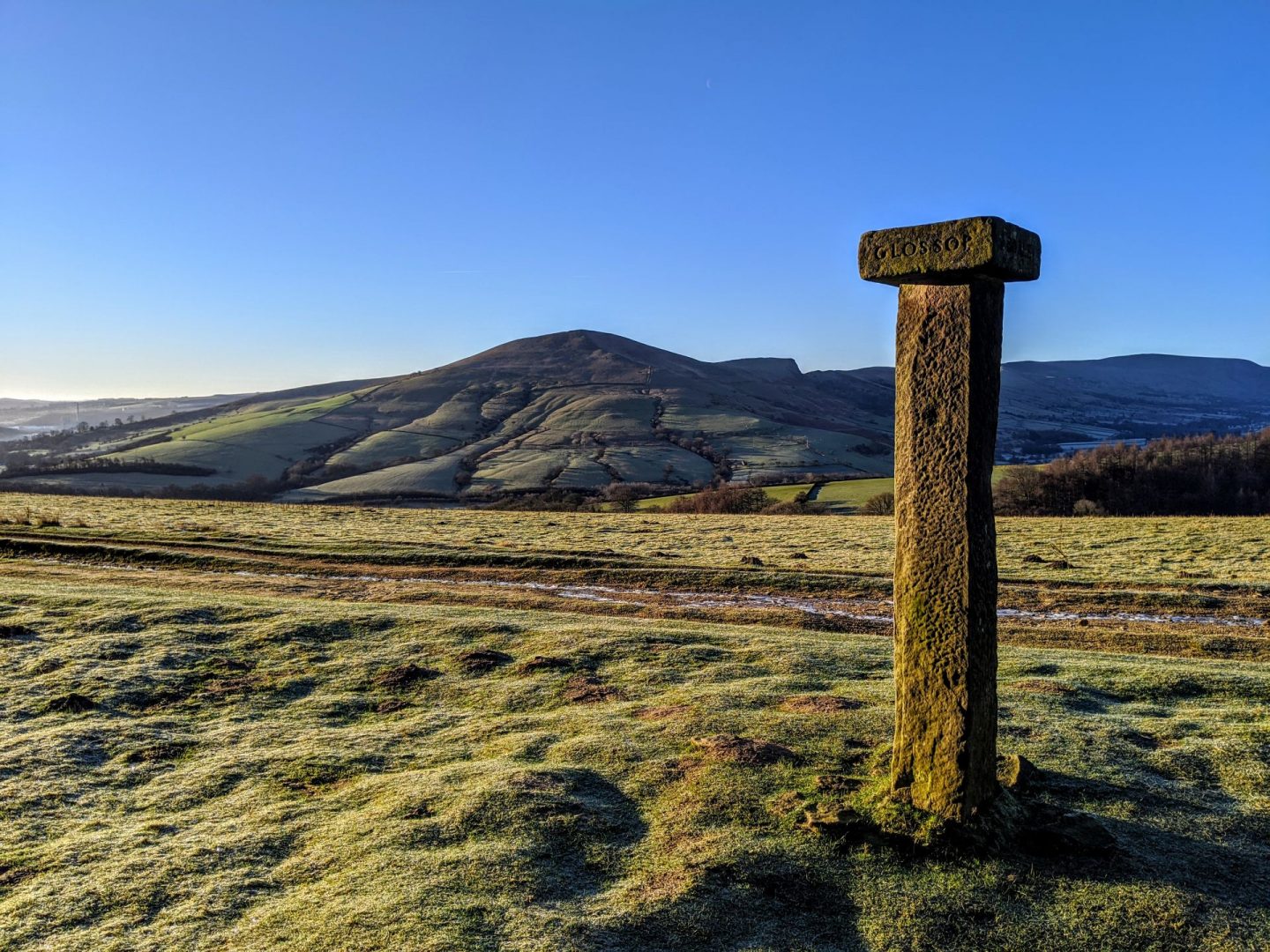 The battle was long and fierce, any by the end the river Noe, which flows between the two hills, is reported to have 'ran red with blood'. Despite having superior numbers, Cynegils forces were defeated by the Northumbrians who built a wall and rolled boulders down upon them. Although there is no record of this battle occuring in any contemporary Anglo-Saxon source, archaeological finds associated with the battle include a large quantity of bones and old weapons which were unearthed near Gore Lane
This walk had everything, hills, fields, woods, and a lake! I really wish I could tell you more but Chrissy planned the route, I followed like a puppy.
I can not look at this picture without seeing the Cheshire cat!
This winter hiking is slowly winning me over although the blue skies and great company (and maybe the wine) might have had something to do with it.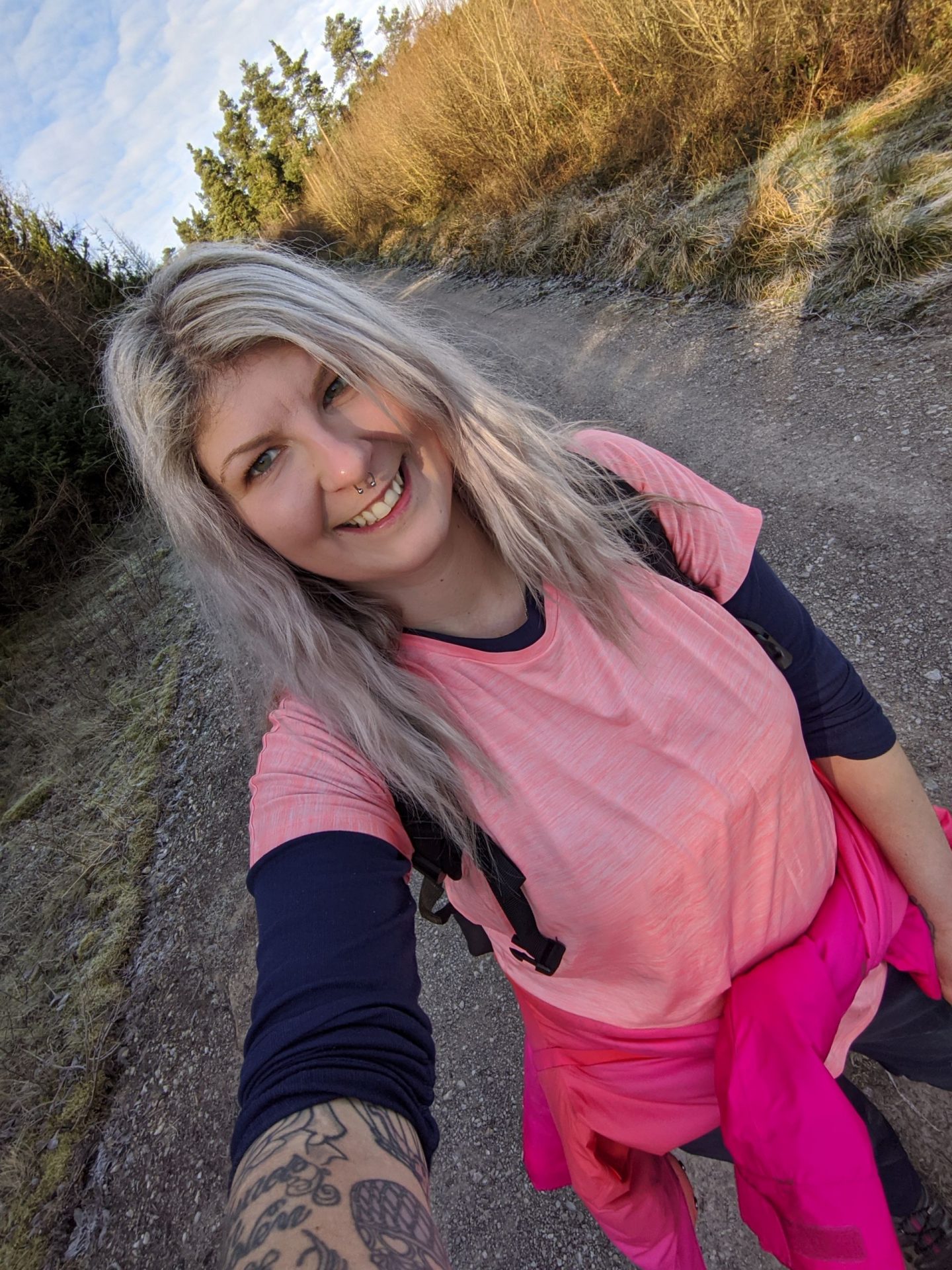 Hello, winter sun! Suns out, slightly fewer layers on!
Ladybower Reservoir is a large Y-shaped reservoir in the Upper Derwent Valley, at the heart of the Peak District National Park. The reservoir was built between 1935 and 1943, and was officially opened by King George VI on 24th September 1945.
The reservoir was constructed due to the heavy demand for water from industrial towns surrounding the Peak District. With its long, deep valley, high average rainfall and low population level, Ladybower was seen as an ideal location for the storage of water.
Work began on the reservoir in 1935 and during construction, the villages of Derwent and Ashopton were flooded. The inhabitants of the two villages were relocated to Yorkshire Bridge estate, just downstream of Ladybower Dam. During the 1990s, the wall of the Dam was raised and strengthened to reduce the risk of 'over-topping' in a major flood.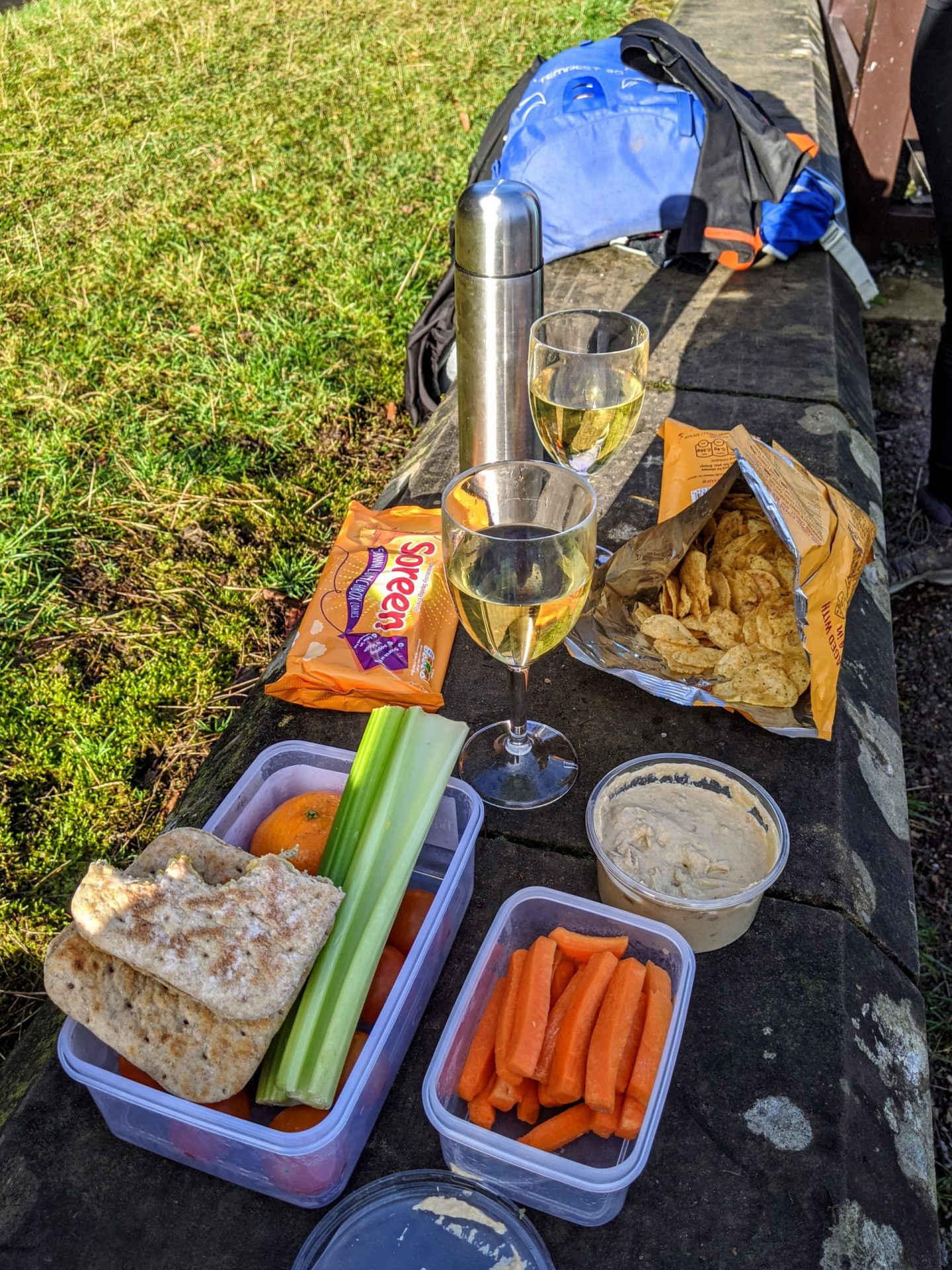 This was by far the most civilised hike I have been on, lunch came and so did more wine and a picnic!
These two pictures sum me up to a tee! Either eating or taking pictures! Might explain why I have gained weight and never have any phone storage left!!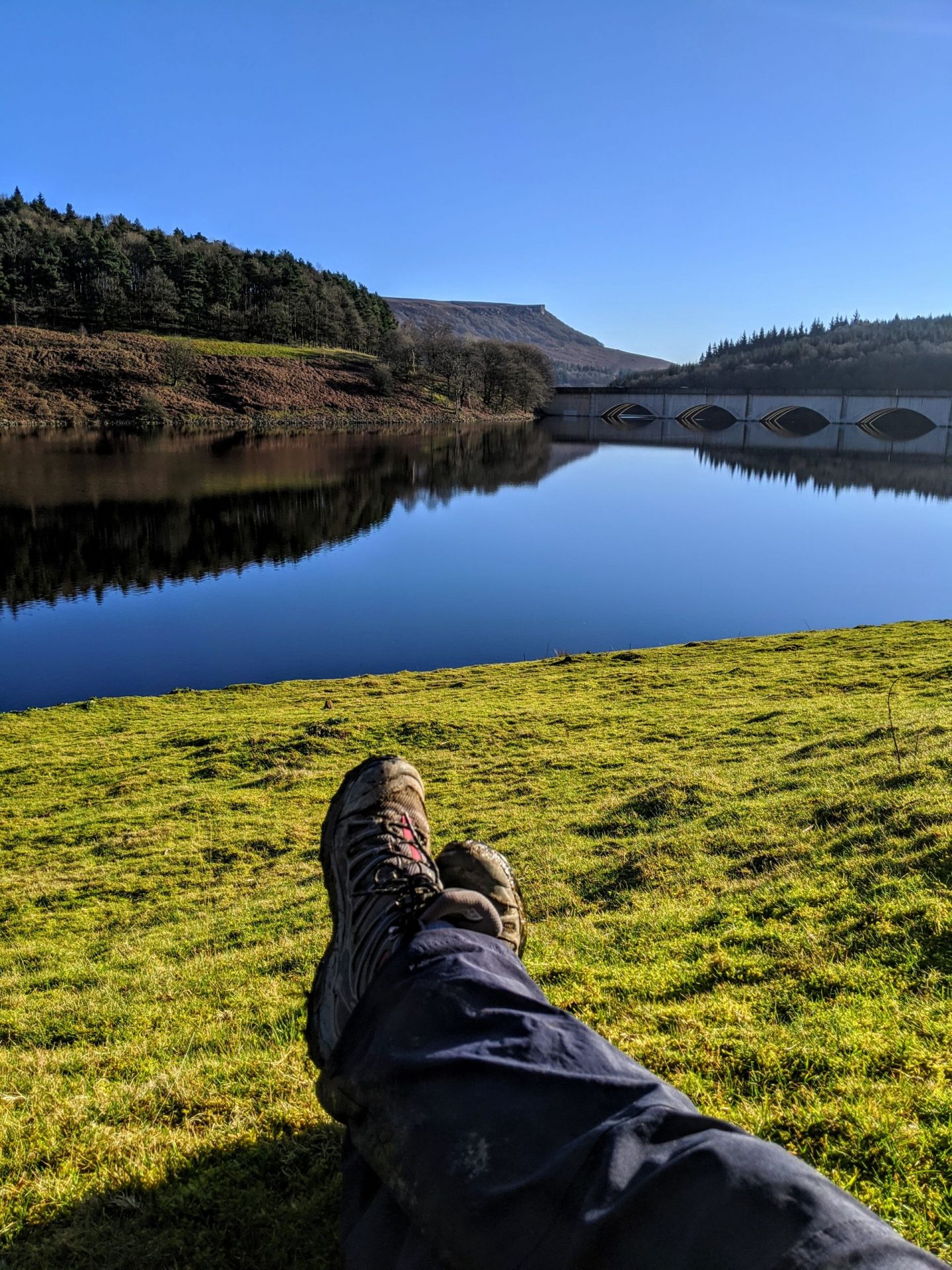 Stopping to take it all in, it's so easy to just keep going while hiking and I know some hikers that just do that. And I totally get that its satisfying to get to checkpoints for set times but I am a stop to smell the roses kinda gal! I started hiking as a way to switch off and that sometimes means stopping, sitting and just breathing the rest of my life is is filled with goals and having to meet them so I don't want my hikes to be like that!!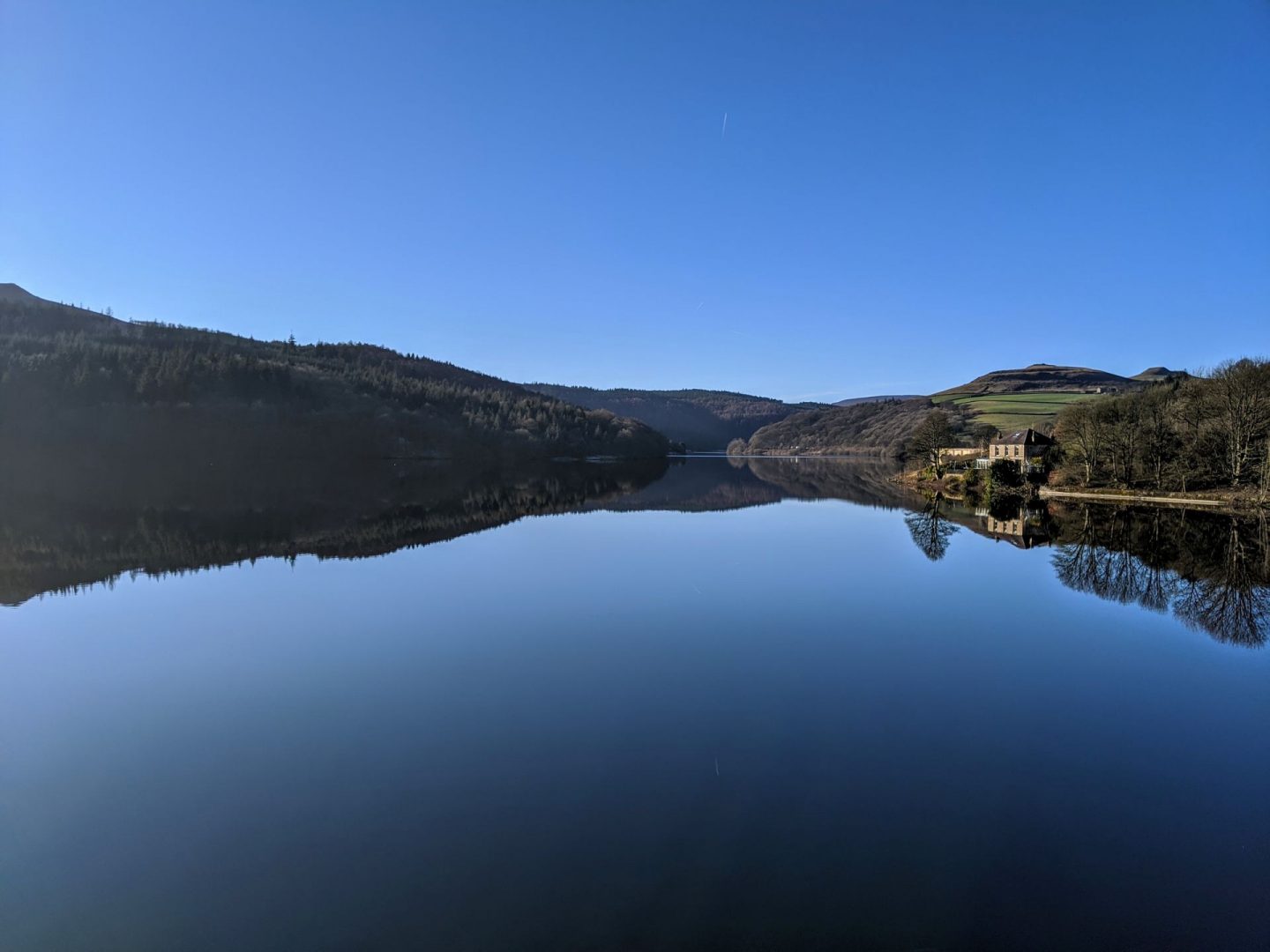 I would go as far to say this was by far my favorite hike of the whole winter!! Eventually, we ended at the giant plug holes (not there technically name) at Lady Bower and it was time to say goodbye, I'm now just waiting for Chrissy to text me again for another hike!!