"Do activities you're passionate about – which make your heart and soul feel perky – including things like working out, cooking, painting, writing, yoga, hiking, walking, swimming, being in nature, being around art, or reading inspiring books." Karen Salmansohn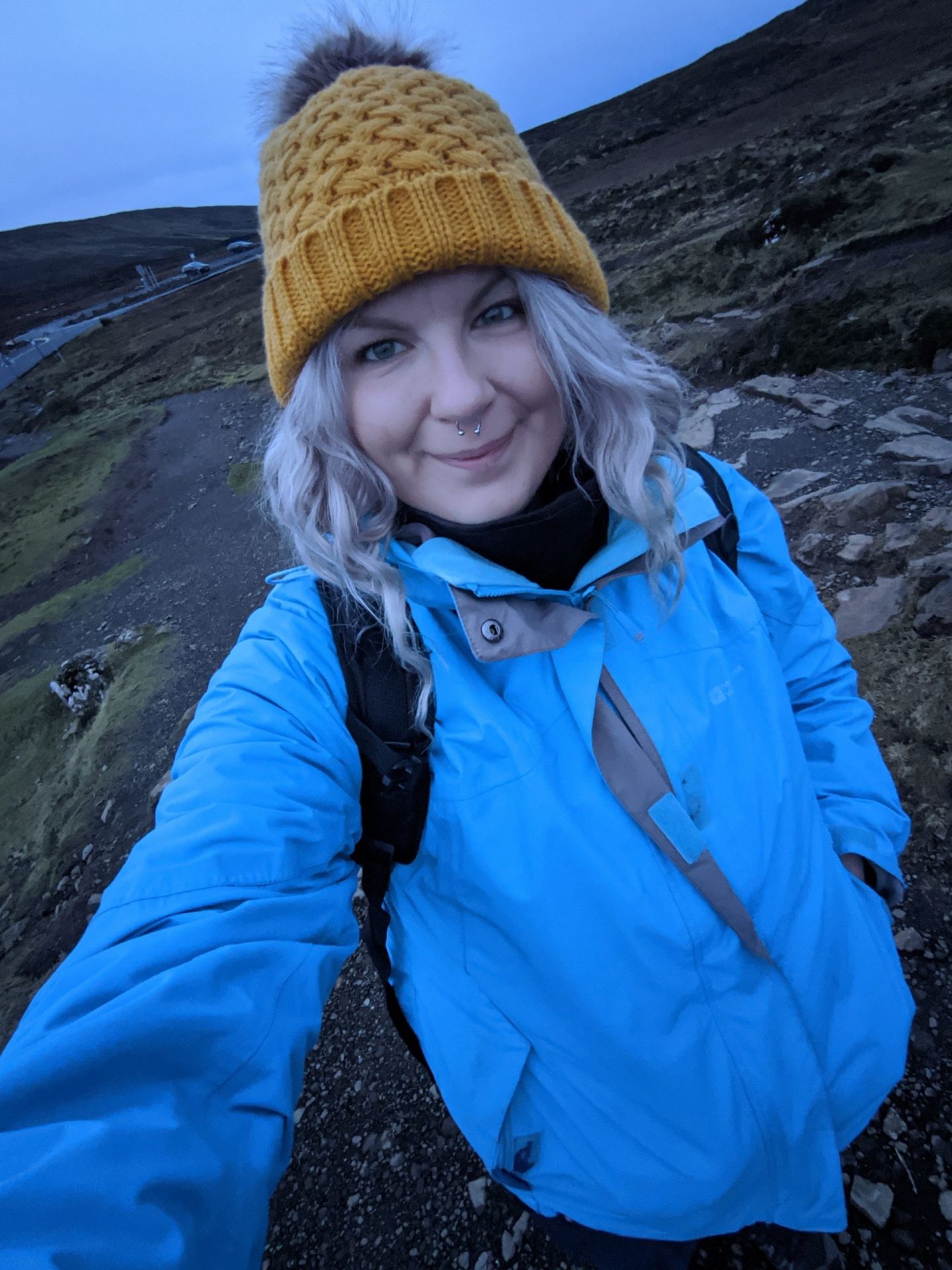 Day two on the Isle of Skye and my mood from the previous had well and truly lifted. Despite a truly awful weather forecast I arrived at my first walk to a mild, dry start. Not sure how long it would last I put a rocket up my bum and set off! The walk was a longer more subtle ascent than the day before which suited me just fine!
Things I learnt before 8am:-
The sunrises later here because it's closer to the North Pole.
There are animal noises I had never heard before.
I am a little scared of the dark.
I am scared of being eaten by wild boar.
So as I was walking I heard a noise that I thought was a pig but then I thought there won't be pigs here, I have never seen a pig wandering around anywhere. My mind went straight to a story I read the week before about a woman in America that had been eaten by a Wild Boar. Before I knew it I was convinced I was going to be eaten by a pack of Wild Boar, almost ready to send my "I love you" texts the sun popped itself up over a rock formation to show the start of a beautiful sunrise just in time for me to forget about being eaten alive.
Though it looks like a serene scene straight from a beautiful dream, the Quiraing was formed by terrestrial turmoil. It's one of Britain's largest landslips, and was created due to strain within its underlying layers of rock.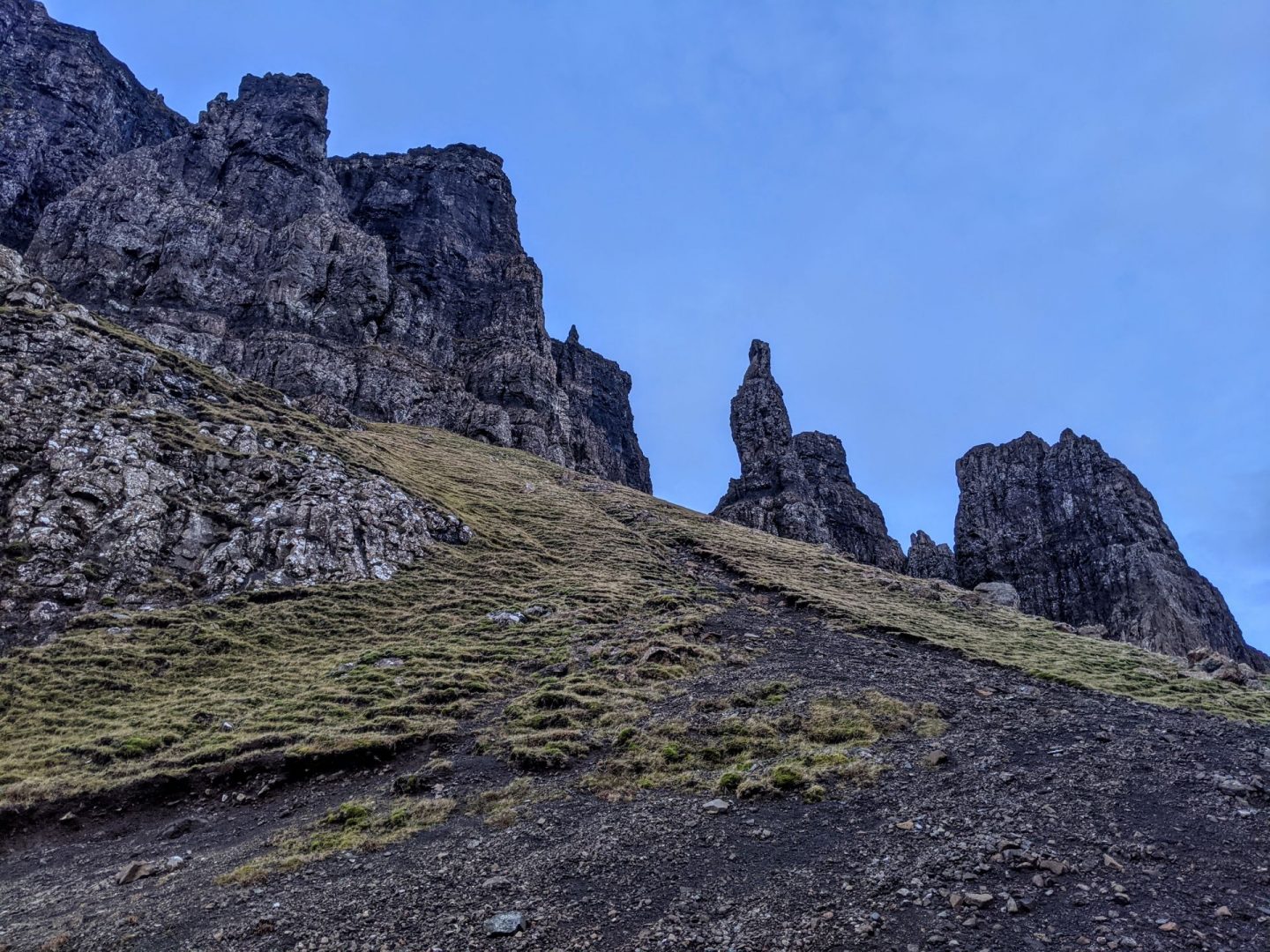 It's part of the Trotternish landslip, which also created the equally beautiful Old Man of Storr. But unlike at the Storr, the earth at the Quiraing isn't done wriggling around just yet—the road at its base has to be repaired yearly because the land still shifts a few centimetres each year. This is something that I was very glad I read about after I walked it!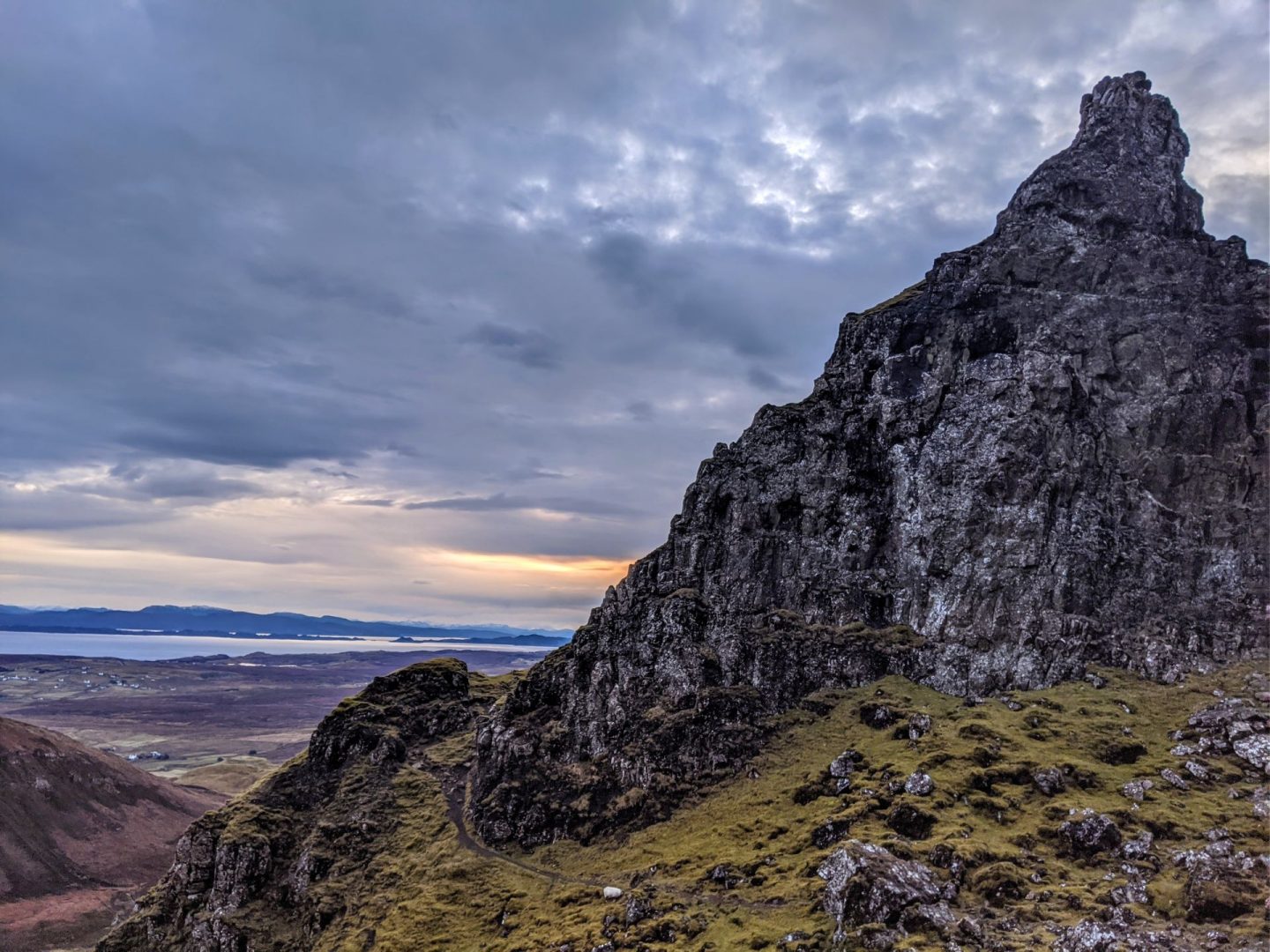 But as inconvenient (and costly) as the constant road repairs may be, there's no denying the constant movement has created an utterly amazing landscape. Jagged cliffs, towering rock pinnacles, and various dips and valleys create a rich tapestry of textures, forming a vivid feast for the eyes. It really is a hikers paradise, I sent hours exploring each nook and cranny formed within this beautiful landscape.
Paths (although some are difficult to spot) wind through the geological playground, letting you wander and play among its many rock formations. The views are spectacular from any angle. As such, it's no wonder people have been drawn to the land for thousands of years. Its name comes from a Norse saying for "Round Fold;" a nod to the Isle of Skye's Viking history. It's been said the islanders used to hide their cattle from Viking raiders within the Quiraing's many nooks and crannies.
Daylight on the Isle of Skye was different from anything I had ever been before, photographing in the winter is always slightly more tricky than the summer months but on the Isle of Skye, it felt almost impossible for me to get a good picture but I did try my hardest. On a positive note, it did make me think more about what I was photographing and not just taking an endless stream of pictures. I did try and create a couple of videos but gave up pretty quickly. And I know I have already said it a 100 times I couldn't handle the tourists in the summer.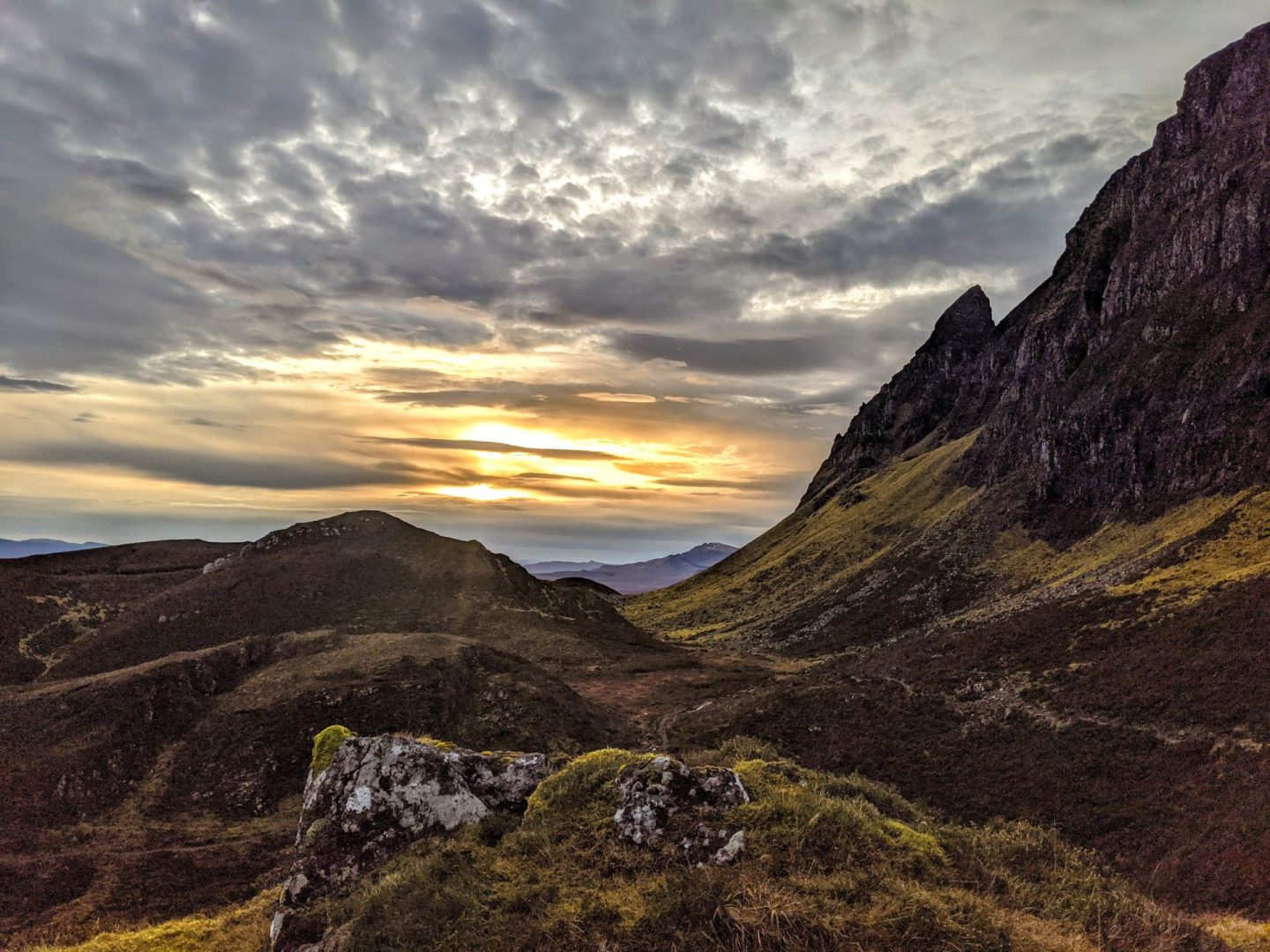 The light might have been different but it was still beautiful!
A warning when visiting the Isle of Skye, I really noticed while driving to Quiraing a lot of the main roads are actually only single-track roads with pull-ins along them. They are also very bendy so unless you are a very confident driver overtaking is not an option. The roads are probably the main reason I wouldn't visit Skye in the Summer, during my winter trip the number of people that would just break hard, jump out their car and take a picture was ridiculous and for me, the road rage would ruin my trip. Also, just an FYI if you are planning on visiting then lay-bys have pay and display machines so may sure you have change on you.
Honestly, I have no idea what exactly is wrong with me, might have been dropped on my head as a child!
Another FYI weather forecasts do not mean anything on Skye, I checked three different forecasts every day and not one of them got it right. I asked a lovely lady at the hostel about it and she simply said, expect rain every day and if it doesn't rain then you have had a good day! The grass is a shade of green I have never seen before which I am guessing is due to the amount of rain it gets so let's hope it never dries up on the Isle of Skye.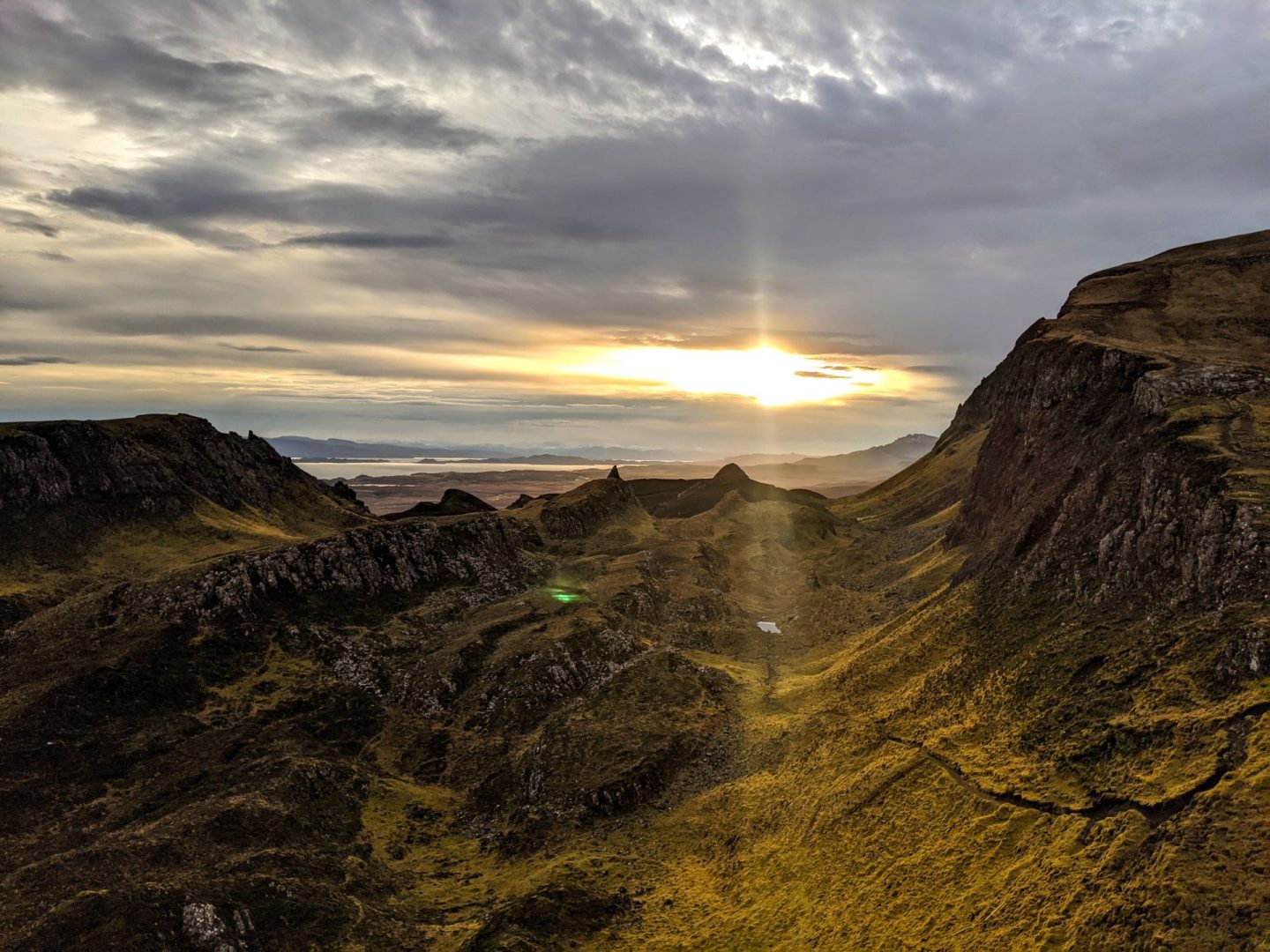 I managed to complete the walk without seeing another person, which is my absolute idea of heaven! I also didn't see any Wild Boar so winner, winner, chicken dinner.