"I'm learning the power of going away for the weekend and keeping myself company." ~ Zoe Saldana
I am still on cloud nine after spending last weekend staying with Mid Wales Views in Rhayader, Mid Wales. Utterly exhausted with the run up to Christmas and after being poorly I couldn't have thought of a better way to relax then visiting a new area of Wales and enjoying a couple of nights with no distractions and the most stunning view. It's such a shame that so many people think you can't holiday in the UK let alone in Winter but what better way to spend a weekend in the winter then hiking and cosy evenings! I had spent the weekend before researching the area and planing hikes (I will post more about this over the next couple of days!)
I found them on their Instagram page Mid Wales Views they are a wonderful family run business so please if you are Instagram go show them some love!
I arrived at 5pm on Saturday with no dea what to expect as I pulled up the moon lit up the valley below I jumped out of my car in anticipation of what my new home for the weekend looked like inside. I was amazed about how beautiful the interior was if not a little confused about how to get the bed down! It was just me but there is more than enough room for a couple and dog (I checked they are dog friendly and your hut/pod is enclosed with a fence). There is also everything you could possibly need inside. I decided to bring my own food and cook while I was there the kitchen is fully stocked with everything you could possibly need. The bathroom has a shower and plenty of towels, there is also enough cupboards and storage places to put all your stuff away! The perfect little getaway!
Once I put my stuff away I cooked some dinner and opened the wine. There is just something so magical about dark nights that makes you want to get cosy. Luckily there was a TV after all I didn't want to miss strictly, I got cosy with a blanket and enjoyed the piece and quiet.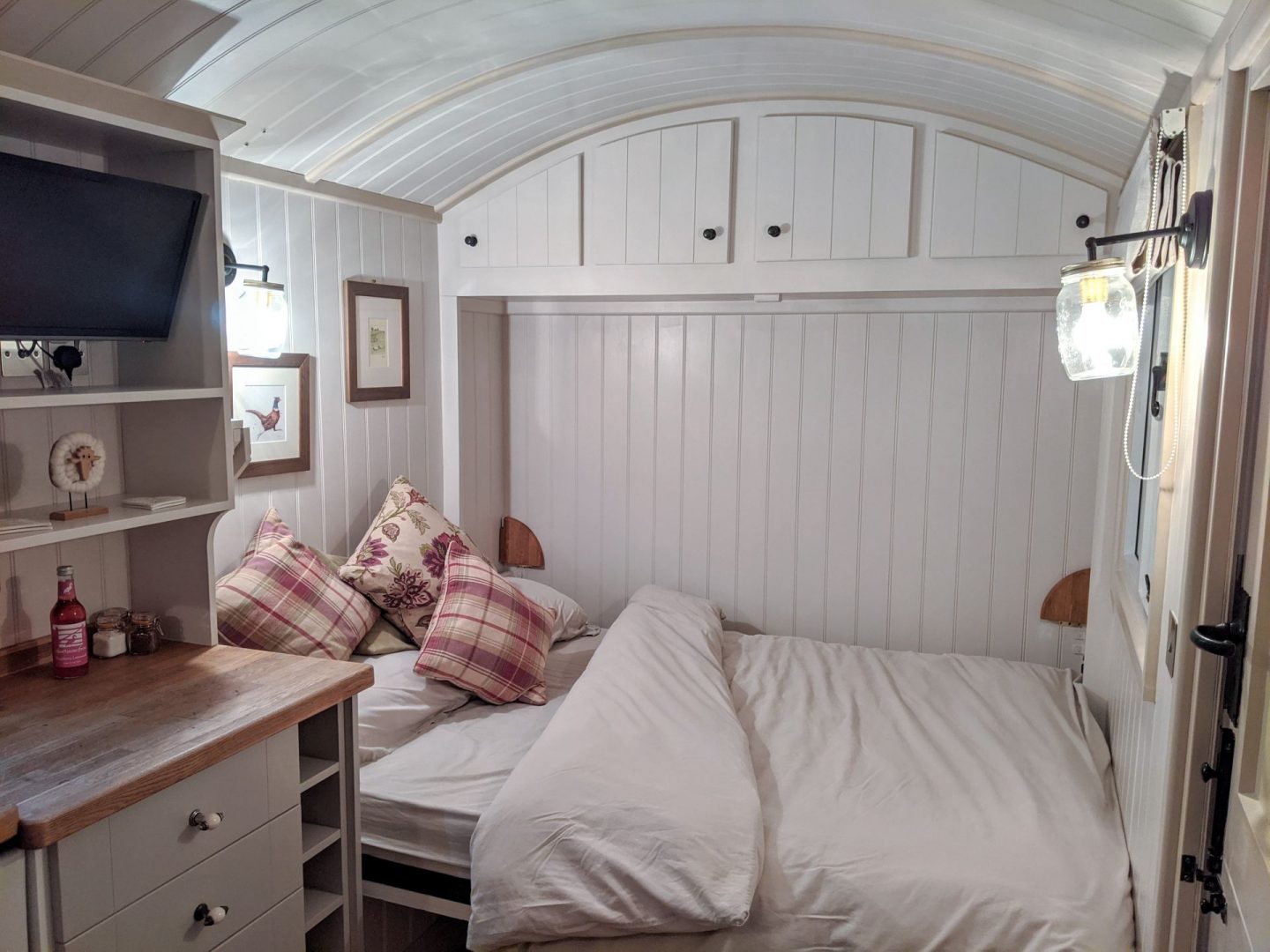 The dining table folds away and the wall comes down to make up your bed. This took me a couple of minutes to figure out stood in front of the wall I was slightly concerned that at 6ft I would be too big for the bed but in fact it actually felt longer then my own bed! Once my bed was done I decided to explore the outside!
What better way to relax then an evening in a hot tub with a bottle of wine?! So each hut and pod comes with its own hot tub. There is a lot of space around each hut and pod so you aren't overlooked. I could hear other people out enjoying a little dip but couldn't see anyone which was perfect for me!
I stayed in the hot tub for a good two hours just lay on my back starfishing and looking for stars in the night sky! There is maybe less then five building within half a mile of the property so it is really quiet and dark, something I am not used to where I live!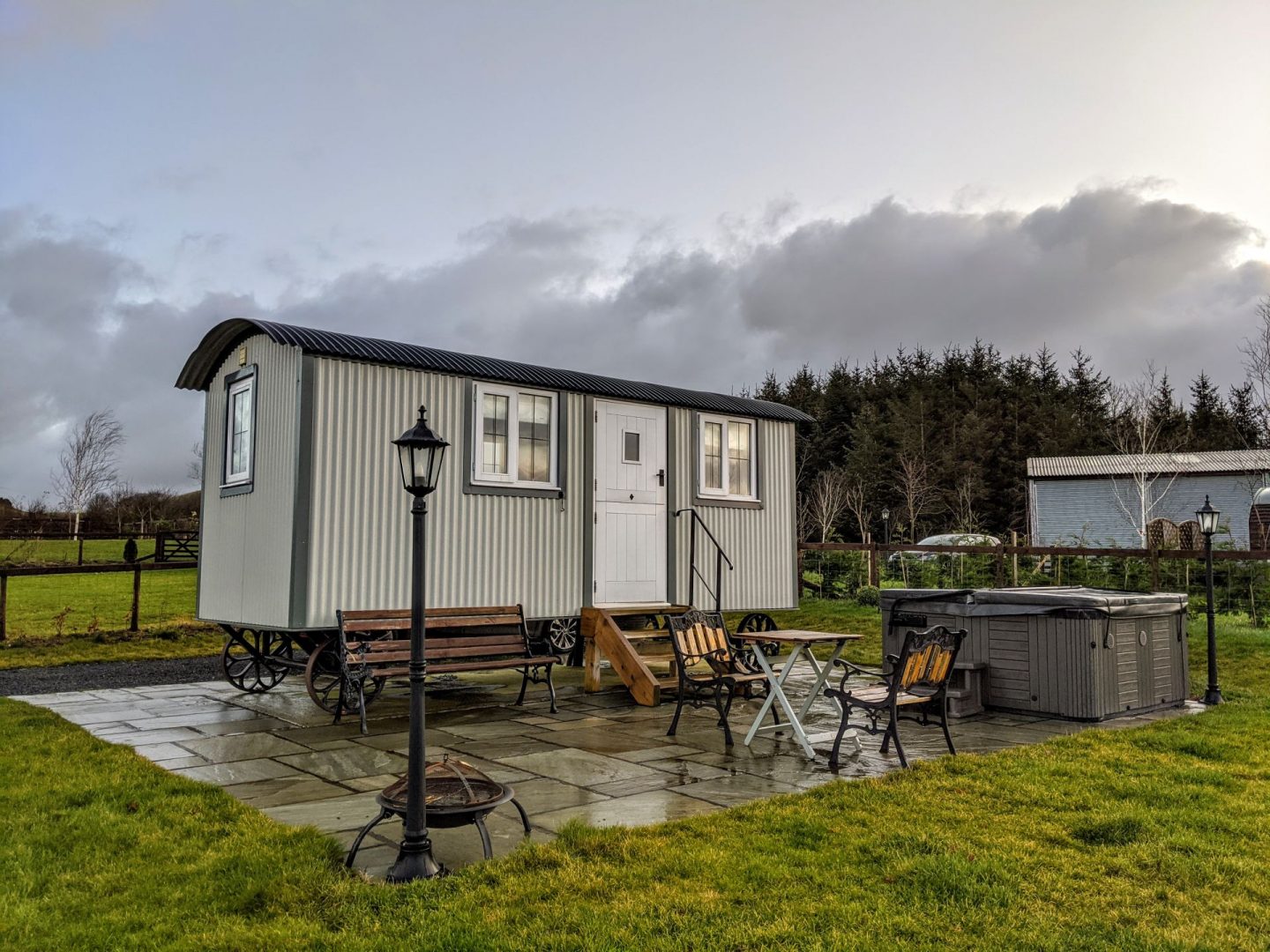 After a peaceful nights sleep I woke up feeling truly rested and relaxed ready for a day of hiking and discovering Mid Wales. With the start of the days light I was able to have a proper look outside!
I stayed in the Shepard's hut called Shepards View and it isn't hard to see why! After only one night I was ready to give up my life and just stay in the hut forever, I sat outside with my coffee just staring at the view and enjoying watching sheep wall by! What better way to start a Sunday!
I highly recommend going and checking out there Instagram Mid Wales Views already convinced then you can book with them here!