"Returning home is the most difficult part of long-distance hiking. You have grown outside the puzzle and your piece no longer fits." – Cindy Ross
Yesterday I wrote about climbing Helvellyn via Striding Edge which you can read all about here and the tortoise pace I went at to bag that summit! This post follows on through that day and from that summit!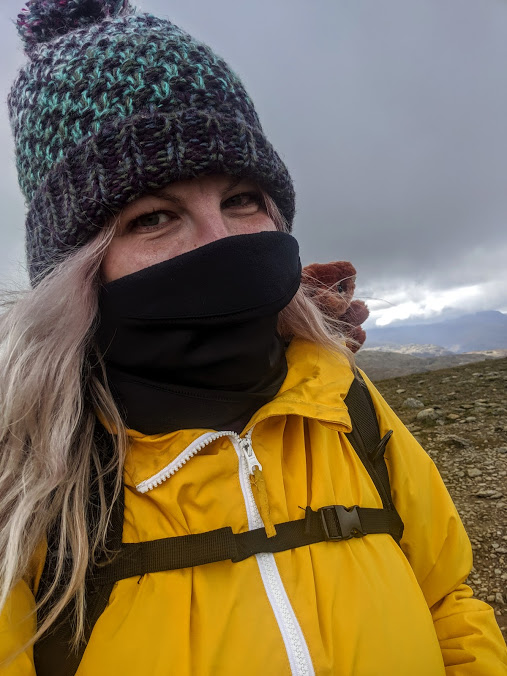 It's amazing how fast you cool down once you reach the summit and how quickly the weather can change once you get there too. Once I reached the top the adrenaline it took to get me there had worn off pretty quickly and within what felt like seconds fog had covered the summit! As quickly as it came it went but for those few what felt like minutes could have been seconds the air turned bitter!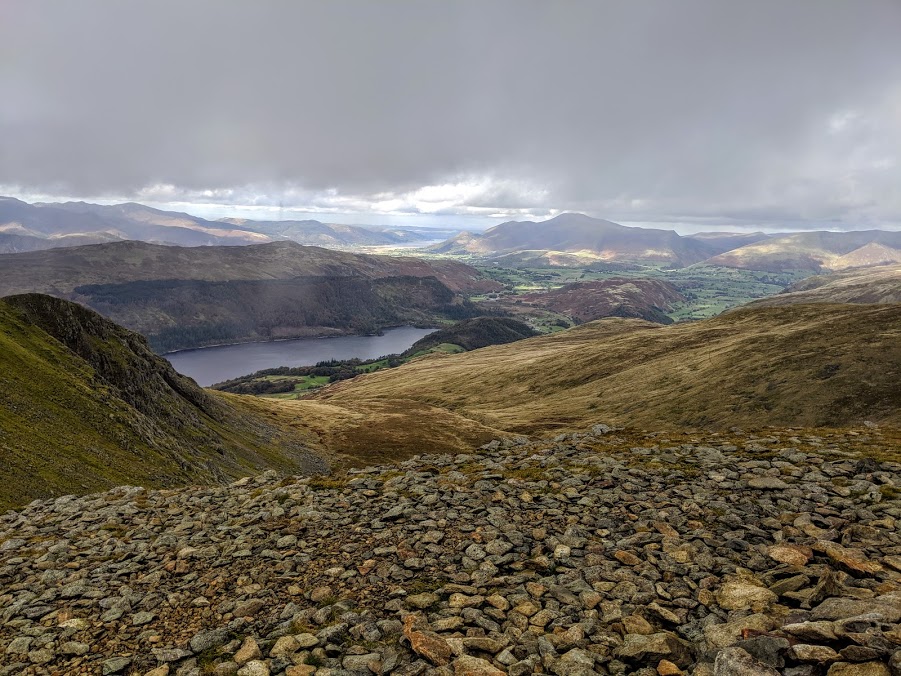 It's crazy how quickly you forget the pain, its almost instant as I was stood at the top of Helvellyn as far as I was concerned I practically ran up it, nothing could have been further from the truth but this new release of energy meant I could carry on walking. The route I had originally planned out depending on how I felt once I got to Helvellyn summit meant continuing walking to bag another two Wainwrights before heading down via the YHA in Penrith. (the fact I am getting places and hill name right is personal growth right there). Giving me a total of 4 Wainwrights for the day and considering how slow I was more than happy with four!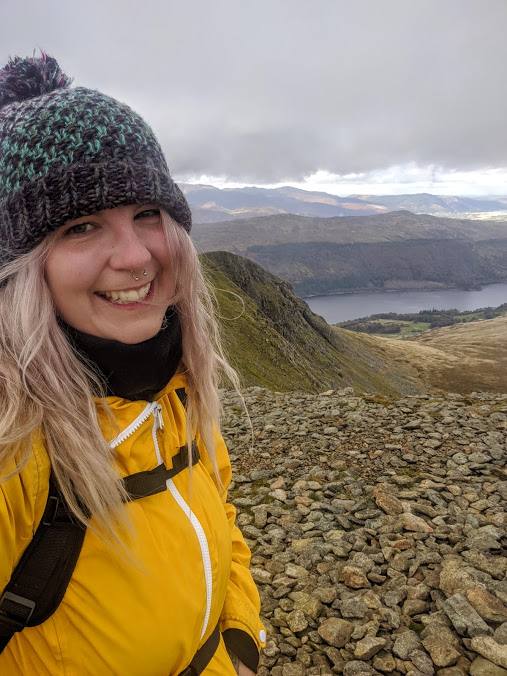 Next summit after Helvellyn was Lower Man and the start of my awkward summit selfies (sorry for the odd faces you are about to see!
Lower Man, Height 925 Feet. Not a Wainwright but put of Helvellyn so good enough for me!
Whiteside, Height: 2317 feet above sea level."When viewed from the road Whiteside looks uninviting and it is difficult to see how a good route can be worked out. The key to the ascent is Whin Ben… From Whin Ben onwards the views of Gasgale Gill are tremendously impressive… This ascent, which promises nothing but a hard grind, turns out instead to be a delightful and interesting climb." Wainwright
Did I even bag a Wainwright if Itotal pose like an absolute knob at the top, I didn't think so either!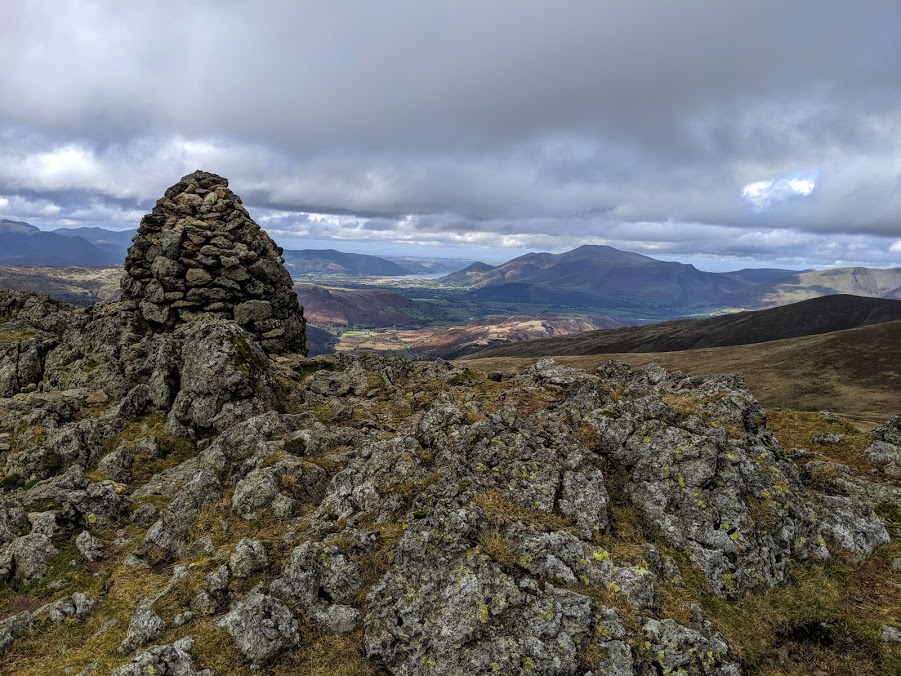 Raise, Height: 2889 feet above sea level was the figure given in the first edition, but since then the OS have recalculated, so the second edition raises the altitude to 2897 feet. Raise is the twelfth highest of all the Wainwrights. "Raise deserves a special cheer. It is the only summit in the Helvellyn range adorned with a crown of rough rocks – and they make a welcome change from the dull monotony of the green expanses around Sticks Pass. But in general, the fell conforms to the usual Helvellyn pattern, the western slopes being grassy and the eastern slopes more scarred." Wainwright
Another summit, another serious of knob pictures!
Using my AllTrails app I saw a route that would lead me down Raise towards Penrith where I could walk further down to Patterdale and back to my car so off I went cutting through fields!
As much as it pains me to walk up it almost kills me coming down! I am the least gracefully woman you will ever meet and luckily to trip over my own shadow so having to walk down what can sometimes be very uneven surfaces at a rather steep angle is a bit of a nightmare which requires me to constantly remind myself not to fall down.
Whose clever idea was this, I mean really what the heck was I thinking!
I am forever stopping to look back from where I have come for two reasons to see just how far I have come and secondly if you always stay focused on the path in front of you then you might just miss something utterly amazing right next to you. Mountains look so different from every direction and every angle, it is important to stop and remember that, take the time to look. After all, if we are forever looking at the problem from one viewpoint the outcome will forever be the same.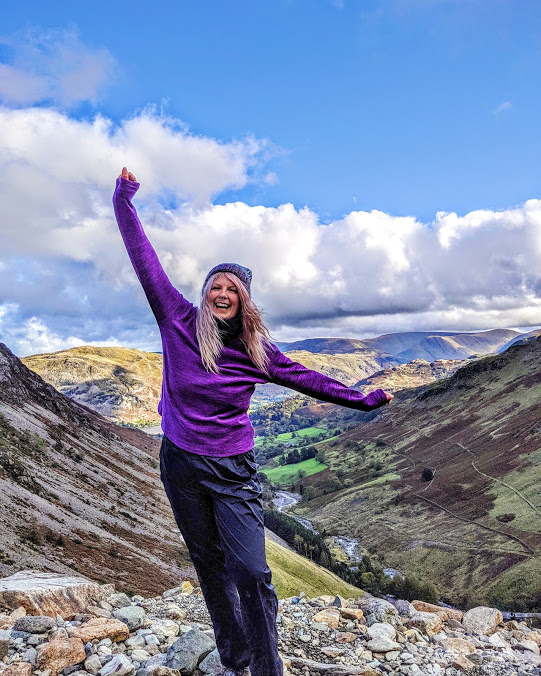 Making it most of the way down and not falling made me a pretty happy girlie indeed!!
Eventually, I made it onto much more of an even ground! And before I knew it I was back to my car and back to a can of full-fat coke!