"Climb the mountain not to plant your flag, but to embrace the challenge, enjoy the air and behold the view. Climb it so you can see the world, not so the world can see you." ― David McCullough Jr.
A few weeks a ago I spent a long weekend in the Lake District it was a last minute trip and a getaway that would be a game changer for me. I had a weekend of hill and mountain climbing planned, it would be my first mountain walking on my own. It would be the first time I planned a route on my own. It would be the first time I had ever walked up hills back to back. It would be my first time in a hostel on my own. Basically it was a weekend of the unknown for me, I had no idea what would happen to me, whether I could do it or whether I would give up after the first hour. I was excited, nervous and scared all in the same breath.
To break myself in gently I decided to start with Cat Bells. The iconic peak – believed to be a distortion of 'Cat Bields', meaning 'the home of the wild cat'. This was one of the most recommended walks I had received and the easiest planned for the weekend so what better place to start.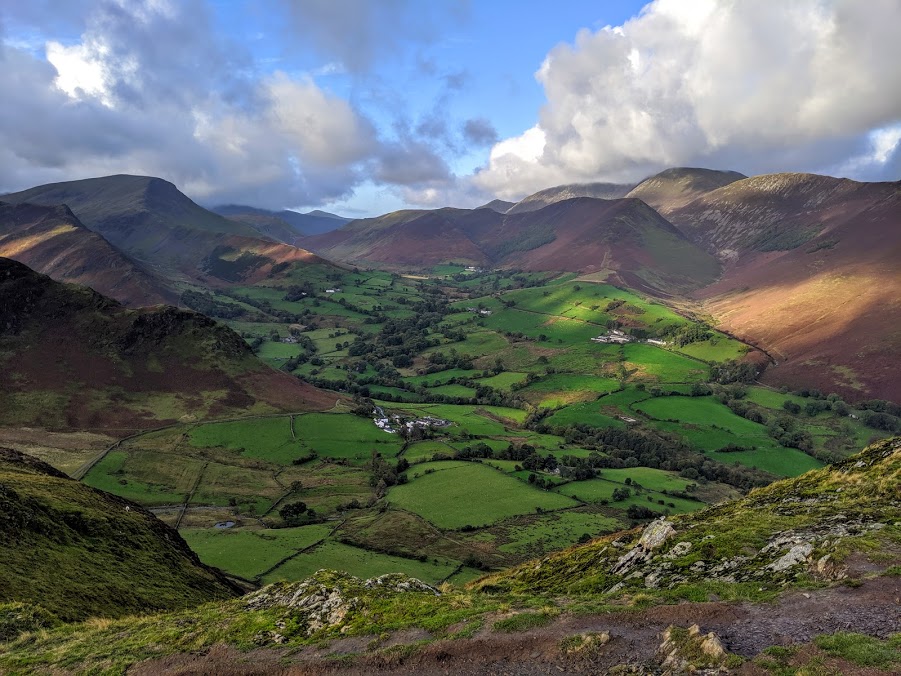 Catbells is one of the most popular climbs in the Lake District. At 451 metres (1,480 ft) it is not particularly high so attracts lakeland walkers of all abilities. Alfred Wainwright said of Catbells: 'It is one of the great favourites, a family fell where grandmothers and infants can climb the heights together, a place beloved. Its popularity is well deserved, its shapely topknott attracts the eye offering a steep but obviously simple scramble.' The fell is located on the western side of Derwent Water near to the popular town of Keswick.
Because I arrived before 7am I was lucky enough to park on the road at the very start of my walk, there is limited parking so I imagine it gets full very quickly. Because I was super early I was also the only person around which meant I would take all the unspoilt pictures I wanted! It also meant I could get lots of pictures of me acting like a big kid at the trig without anyone else's judgement
At the summit is a stunning 360 degree panorama of Derwent Water, Keswick, Bassenthwaite Lake, the Newlands Valley and Skiddaw to the north and Borrowdale to the south. It quickly became apparent why so many people had recommended this walk to me, I stood at the summit excited for what the next couple of days had in store for me. It also helped that the entire drive up to the lakes was no stop rain and all of a sudden I was in a bubble of blue skies and autumn sunshine.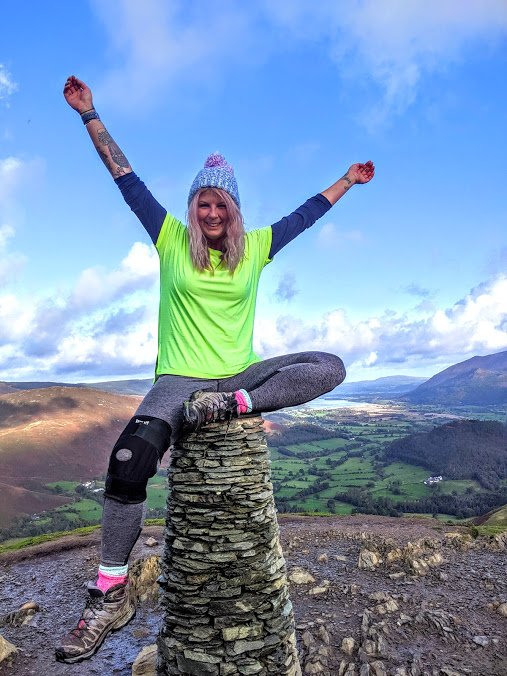 Is it even me if I am not acting like a tit at the trig?!
"Words cannot adequately describe the rare charm of Catbells, nor its ravishing view." Alfred Wainwright
The way I have learnt whether or not I have walked a route the wrong way or not is when I hit a scramble that would have been easier to ascend then descend. This was one of those routes I took the wrong way! Whilst the scramble to the summit may not look too bad from a distance, up close it's a bit trickier. The well formed path ends and becomes a rocky ledge for about 200 metres. Still not sure what I could or couldn't do in regards to scrambling I pretty much came down on my butt! (since I have became much more confident and better at reading the route.)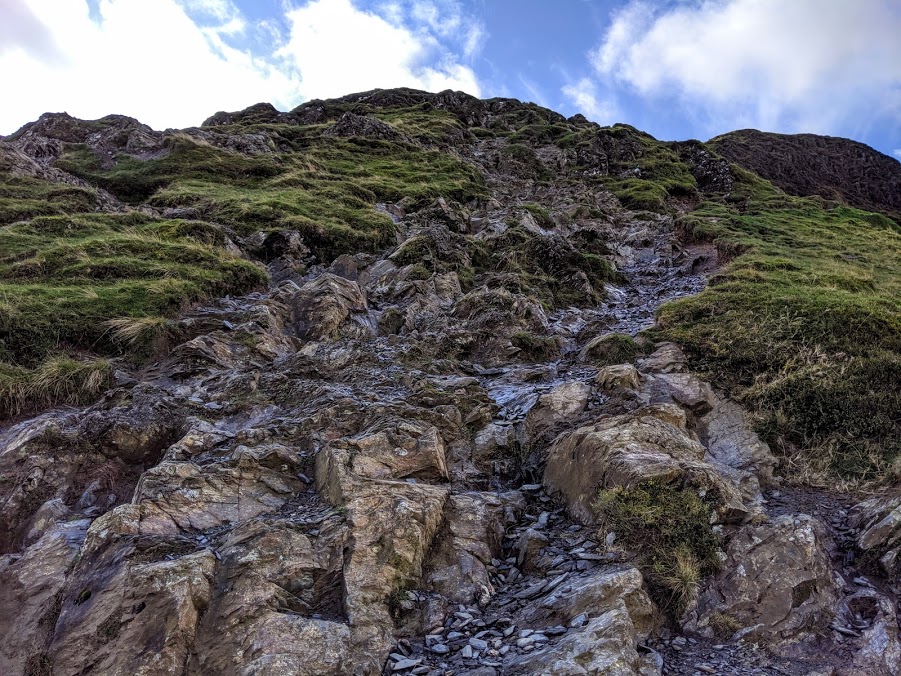 Yep would have been much better going up this section then down, but you know its all about learning!
I used the app AllTrails to pick and plan routes, this was my first time using the app and since I am still not great at using a map I figured it would be the best way of not getting lost. It took me about an hour to get used to it but eventually it worked like a treat. I wanted to use it on a smaller hill first so I would be confident when using it on higher, longer walks. The thing I learnt most this weekend is to plan like crazy but have a back up plan. I had my whole weekend planned out but because of weather and times after Catbells my plan went out the window and luckily because I had been using AllTrails is was quick and easy to figure out a new plan. And anyone who knows me will know that this is massive personal growth for me, I am such a planner and become really anxious when a plan changes that for to change something last minute is a big deal!
Derwent Water is one of the prettiest lakes in the Lake District surrounded by fells and many of the slopes facing the water are extensively wooded. The Keswick to Borrowdale road runs along the eastern shore of Derwent Water and carries a regular bus service. There is a smaller unclassified road along the western shore which connects the villages of Portinscale and Grange. But the best way to enjoy the beautiful scenery around the lake is to take a boat trip on the Keswick Launch Ferry.
Eventually my first walk of the weekend was done and ticked off, feeling rather pleased with myself that I didn't fall from the summit and roll down the side of the hill like a giant marble I headed off for brunch and to explore the local area. Cat Bells might be shadowed by her brothers in height but she is pretty special in her own right and I highly recommend any one going to the lakes to do the walk it really is worth the effort with the rewards of the view.