"Somewhere between the bottom of the climb and the summit is the answer to the mystery why we climb." -Greg Child
I can't tell you how much I was looking forward to doing Snowdon for the first time, it was on my bucket list and I was excited beyond belief. I also can't tell you how much I actually hated doing Snowdon for the first time. In fact, it was my worst mountain experience so far and even looking back 6 weeks on I still hate that day!
Snowdon is a staggering 1,085 metres or 3,560 feet in height, making it the highest mountain in Wales and England. Scotland's Ben Nevis is the highest in Britain. Snowdon is one of 90 summits that reach over 2000 feet in Snowdonia National Park, and one of 15 that reach higher than 3,000 feet. Several neighbouring peaks to Snowdon are over 3000 feet, called the Snowdon Massif.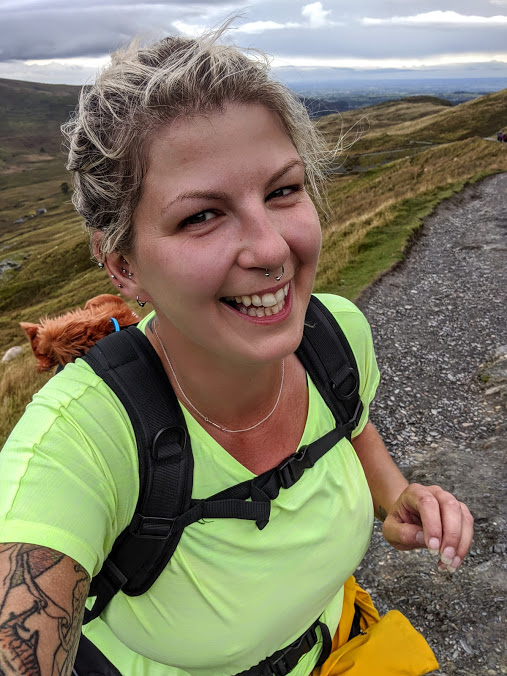 I am smiling on the outside!
Ok so what had happened, I was already to walk up Snowdon via the Pyg track and down the Miners however the car park was completely full (tip- you are best getting here between 6-6.30 as the car park fills up quickly) which we meant we had to walk up Llanberis path (the tourist path along the train tracks) and I don't know if it was the change or route or what but I lost all motivation to walk up it. One thing you might not know about me especially if you are new to reading my blog is that I love rules, I am a total rule follower and I bloody love a plan and going off-plan can make me pretty anxious. Which I am sure contributed to my bad mood!
It took me hours, hours of moaning and being utterly miserable. In fact, within the first 30 minutes, I had said out loud that I wanted to give up, my head had gone and I just wasn't in the mood to do it at all!! What I have learnt is that climbing a mountain when your head is gone is one of the hardest things in the world to do! I couldn't believe I had gone from sheer excitement the night before, even a couple of hours before to holding tears in!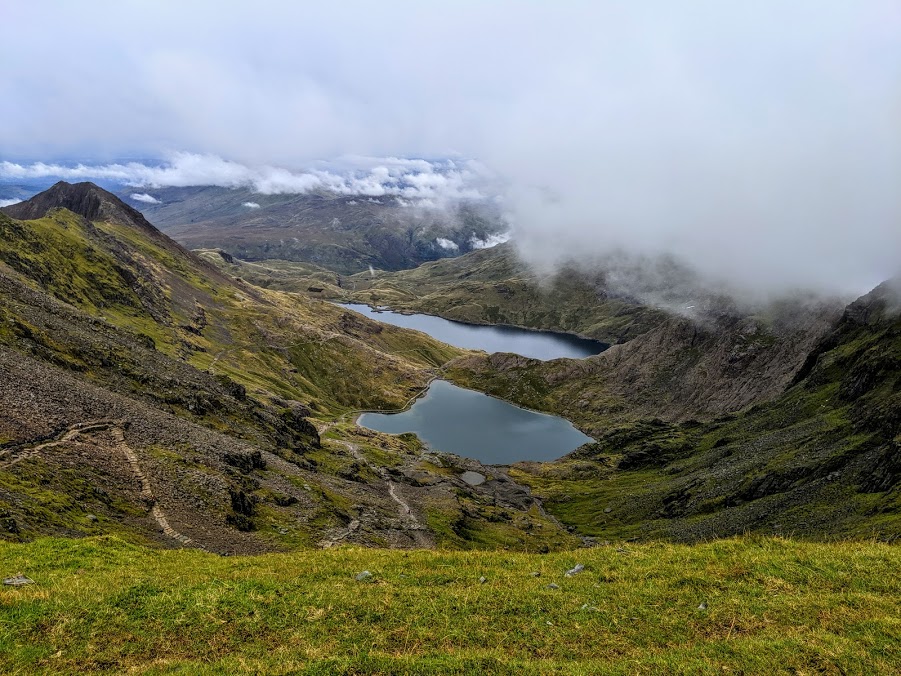 The old Welsh names of Snowdon, translated into English mean The Great Tomb and The Cairn of the Giant, suggest the mountain has some interesting links to legend and myths. One, in particular, surrounds King Arthur, and in one story, Arthur kills a giant, Rhitta Gawr, on the slopes of Snowdon, to avoid having his beard added to the giant's collection and the mountain is said to be the tomb of the giant. Another tale suggests that Arthur's body lies beneath a cairn of stones at Cwm Tregalan, while his knights lie in a cave on Y Lliwedd, a mountain connected to Snowdon.
Knowing I was pretty near the top and after eating a lot of chocolate my mood finally improved. And for the first time, I was able to look around at the scenery and take in how far up I had actually walked.
I didn't know if I expected as many people at the summit as there was, I have read articles and I know the train runs up to the top so I knew there would be a lot. But seriously there was a lot!
Got my picture at the top with the trig point and was ready to get my arse back down, but not before a brew. I mean you have to take advantage of brew stops when you get them!
And then I headed down, feeling in a much better mood and extremely proud of myself not because I reached Snowdon's summit but because I overcame my bad mood. I think with most exercises it really is mind over matter, it's just with climbing a mountain it can take a lot longer then you would normally spend doing cardio in the gym. The one thing that mountains have that gyms don't is complete support from others around you, I lost count of the number of people who stopped to talk to me, to tell me I could do it and who walked with me for sections. I didn't feel like a dick head I felt supported. I did Snowdon again last weekend and was so much quicker and the more I do the quicker I will be and eventually I will be helping others along.