"I think nature's imagination is so much greater than man's, she's never going to let us relax." – Richard Feynman
After a spot of lunch and a wander around the grounds I headed over to the rainforest biome to experience four of the world's rainforest environments: Tropical Islands, Southeast Asia, West Africa and Tropical South America. Catch up on my morning at the Eden Project on yesterdays blog post
While strolling along the winding pathways, breathing in the humid air (take a bottle of water in with you) and smells of vegetation and damp earth, it was easy to lose sight of the giant bubble protecting me from the real Cornish elements. I could easily believe I was in Brazil or Malaysia, or some as yet undiscovered island in the South Pacific; that is, if it wasn't for the other tourists, in similar states of undress.
I walked past brilliant tropical flowers, towering palm trees and a variety of important crops, suitable to the warm, moist climate. One of the most impressive features was the full-sized waterfall crashing down amidst the lush greenery. The illusion was only shattered when I looked straight up and could see the exoskeleton of the dome above me. And at the very top, there was something else that beckoned – a staircase to a lookout platform, way above the forest canopy.

But before I headed over to the platform I wandered across the canopy rope bridge stretching 23 metres across the canopy between two of the tallest trees in the 50 metre-high Biome, despite visiting on a Sunday it wasn't packed which made my experience much more enjoyable, I guess in the summer it fills up pretty quickly with holiday makers. Something about the rain shack where visitors can shelter from a tropical rain storm and discover why it's so wet in the rainforests; awoke my inner 7 year old and for a second I was transported back to primary school and to lessons about the weather and the cycle of water from lakes to clouds to rain.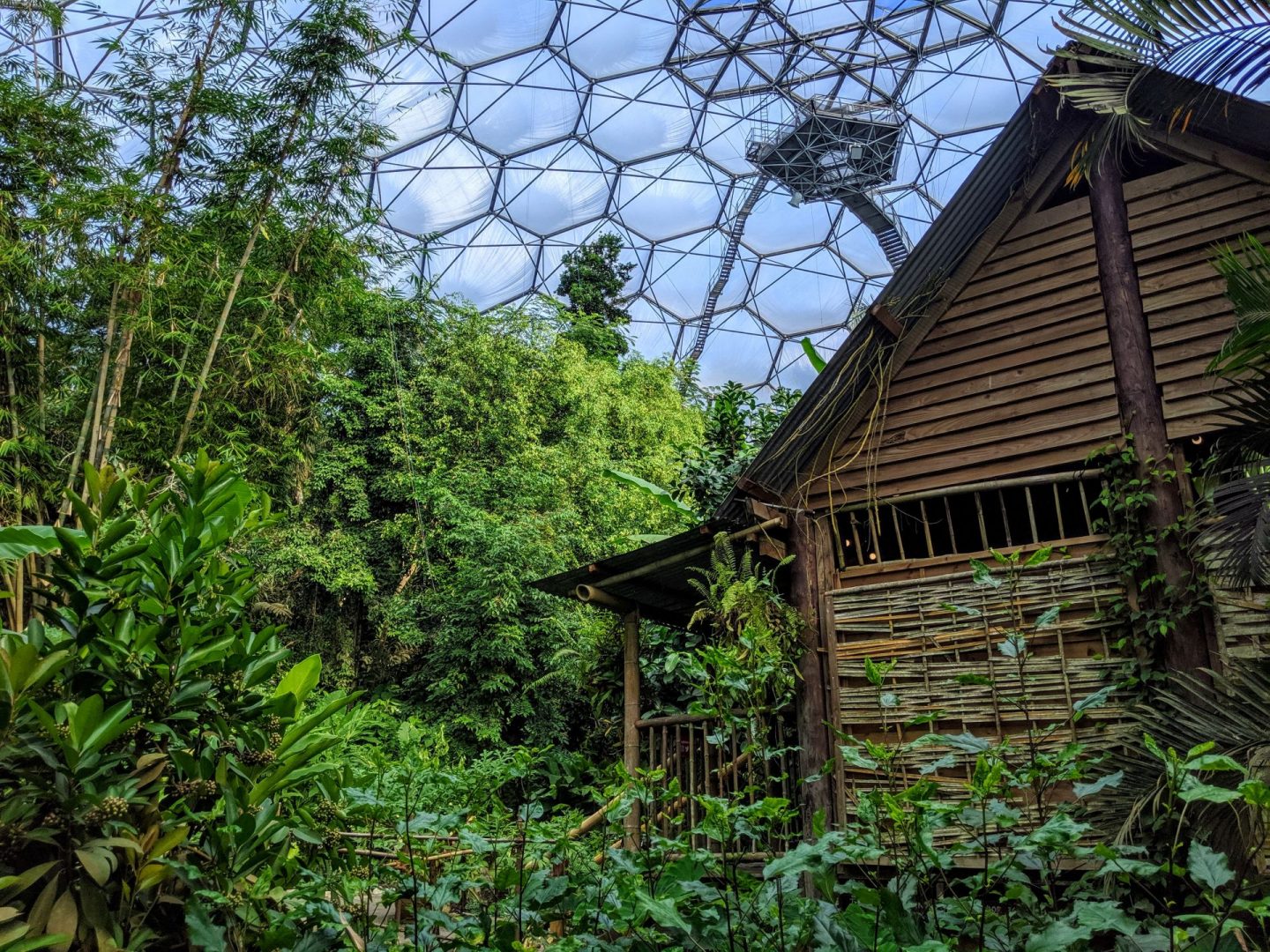 I felt like this was the most educational part of the day by far and could see that kids would love it, even I went from platform to platform with a grin across my face. Adults giggled as they went across each bridge seeing if they could scare others with a bit of a bridge wobble. The Climate Platform and Weather Station are where you can discover more about the link between the atmosphere and climate change, read live weather data and find out how computer climate modelling helps forecasts. on The Carbon Platform you can explore how the growing rainforest captures carbon dioxide and stores it as solid carbon compounds in wood, leaves, roots and soil. 

I also found that the rainforest biome was much more interactive with exhibits including the Transpiration Tree where visitors can pump water up a tree to see how it travels through leaves and into the sky to form clouds. And the Striking Lightning (my favourite exhibit) an electrifying exhibit on the relationship between tropical trees, lightning and climate change 
The Eden Project is the greatest ever collection of plants useful to humans. In one place you can see a massive diversity of plants from all over the globe and understand how every day products in their lives are made from plants. Chocolate, rubber, coffee, bananas, sugar – you can see all of it right here under one roof. A vat of knowledge to be soaked up and digested.
Take the steep and stepped high road past the waterfall for a great panoramic view and see the work of Peruvian shamanic artists Montes Shuna and Panduro Baneo, showing a spiritual connection between plants and people. The art scattered across Eden Project is sensational not one piece looks out of place and each piece blends perfectly into the natural environment.
These murals were painted by traditional Peruvian herbalists Francisco Montes Shuna and Yolanda Panduro Baneo. The paintings show their visions of the spirits of the plants they have worked with medicinally.
The biodiversity platform is high above the ground, visit the Nest platform and take in the stunning range of life in the rainforest. See how plants eat, drink, reproduce and protect themselves from danger without moving. In 'nature's design studio' see how forms are produced that fit their function, from protective prickles to pollination mechanisms and from guttered leaves to garish flowers. 

The steps up to the perch are mesh so be prepared to see below through every step. The staircase also shakes quite precariously on ascent. It's not everyone's cup of tea and some visitors can understandably get spooked! Groups of a maximum of 24 people are allowed up to the viewing platform at one time and everyone must be able to walk by themselves, so no babies or toddlers. It's also recommended that those with dicky hearts, who suffer from vertigo & similar medical conditions sit this one out. It is certainly high – 165 feet up to be exact. It's taller than the Tower of London. It's also hot. Temperatures at the top of the dome can reach 40 degrees Celsius. I can't lie I was a little spooked being up there the platform shakes a lot leaving you very aware of how high you really are.
After coming down from the platform I was ready for some cool fresh air to off set my nerves and whats more calming then some happy sunflower faces. Despite walking through the grounds already twice that day the third time showed me plants and sculptures I had missed. I am pretty sure if I walked around another ten times I would keep discovering new things.
Eve is made mostly of clay from Eden itself. Inside she has a galvanised steel armature, and her hair was planted with Stipa tenuissima. She was created by brother and sister team Peter and Sue Hill, who have made many stunning living sculptures out of earth and plants, including the sleeping mermaid and a giant's head at the Lost Gardens of Heligan.
The biomes are beautiful and truly an impressive sight but for me the outdoor gardens stole the show, partly due to the impressive biomes background so maybe one can't be special without the other.
Can't believe that took two blog posts to write or at least mainly to show all the pictures I had taken! As you can imagine it has taken me weeks to go through all the 6000 pictures I took while on my 8 day break in Cornwall, think I might be snap happy. For more information about the Eden Project visit their website here. If you are visiting Cornwall then I recommend a trip, it will take most of the day to see everything but worth the time.