"I enjoy art, architecture, museums, churches and temples; anything that gives me insight into the history and soul of the place I'm in. I can also be a beach bum – I like to laze in the shade of a palm tree with a good book or float in a warm sea at sundown". Cherie Lunghi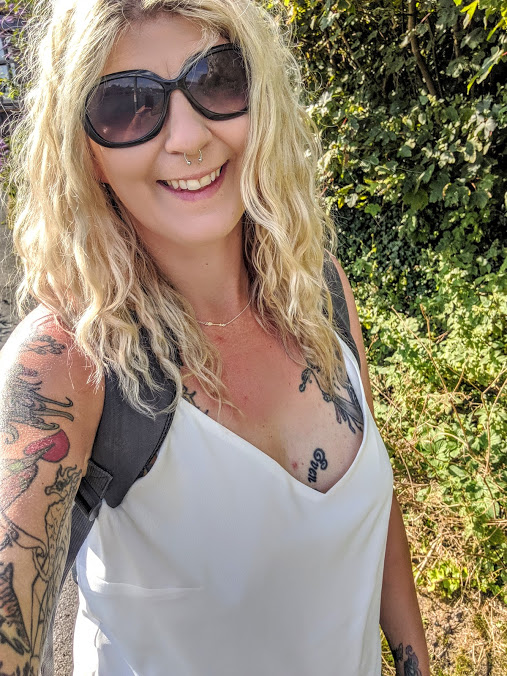 Because I am a dick that posts out of sync! This is actually the third day and the morning after yesterdays hike (if you haven't read yesterdays post, go back. It was super emotional). The sun burn was very sore and I fully regretted wearing only a vest with a backpack rubbing on my shoulders. Since yesterdays hike almost broke me I decided to have a rest day! And what better way to rest then a day full of castles!! FYI castles are terrible rest days, full of stairs and climbing!!! Guys if castles or history aren't your things then you are going to hate this post!!
Pembroke Castle is one of the finest castles, not only in Wales but in all of Britain, a testament to the wealth and prestige of the medieval Earls of Pembroke and the importance of Pembroke itself in the medieval period. It is also known as the birthplace of Henry VII, the first Tudor king.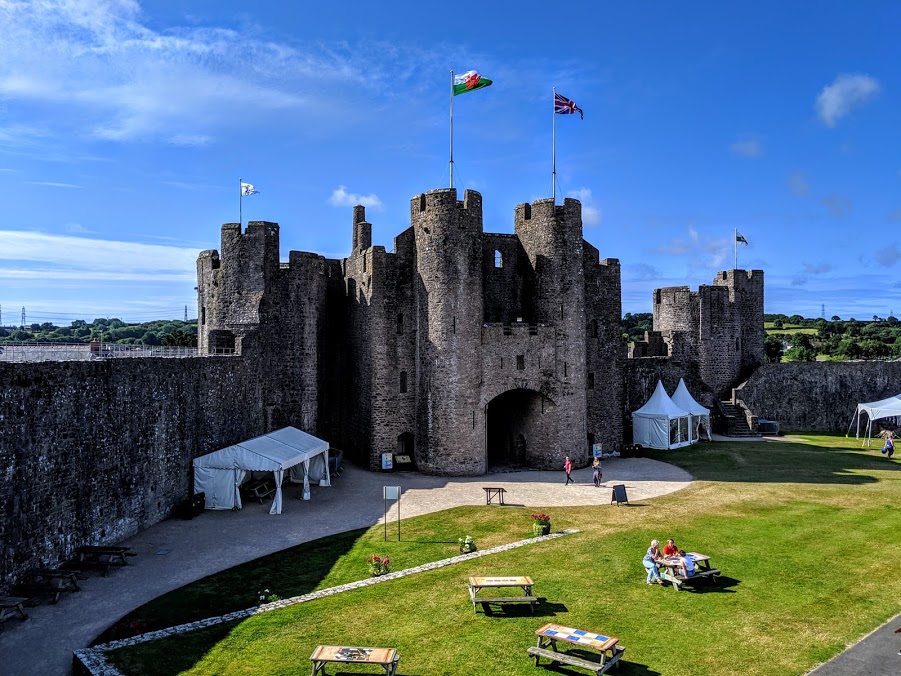 There is a large cave under the town of Pembroke, a prehistoric cavern that was inhabited long before Norman knights cast envious eyes into this corner of south Wales. The Romans occupied the site, but our story really begins after the Norman Conquest, when Rhys ap Tewdwr, Welsh ruler of the south-west, agreed a truce with William the Conqueror.
William agreed to leave Tewdwr in peace, but when Rhys died in 1093 the Norman Roger de Montgomery, Earl of Shrewsbury, invaded. Roger began building a castle at Pembroke almost immediately after taking control of the town. Roger died in 1094 however, and his son, Arnulf, appointed a steward named Gerald de Windsor to administer his Pembroke estate. Gerald almost immediately had to defend the fairly rudimentary fortification at Pembroke against a Welsh attack.
When Arnulf rebelled against the crown in 1102, Henry I seized Pembroke Castle. Henry gave Nest, widow of Rhys (and Henry's own mistress), in marriage to Gerald de Windsor, who now acted as the king's steward. Henry established an intentional settlement, or borough, outside the castle, and set up a mint there. Henry then invited settlers from Flanders and England to inhabit his new borough, which became something of a heartland for the enclave known as 'little England beyond Wales'.

The 13th century was really the golden age of Pembroke Castle; after that time the castle gradually fell into decay. It saw action in 1405 when a French army besieged the castle in aide of Owain Glyndwr's rebellion. In 1457 Henry VI made his half-brother Jasper Tudor, Earl of Pembroke. Tudor brought Margaret Beaufort, the newly-widowed wife of his brother Edmund Tudor, to Pembroke Castle. Margaret, aged only 13 at the time, was pregnant at the time of Edmund's death, and it was at Pembroke Castle that her child, later to become Henry VII, was born.
Then I turned the corner around found the man of my dreams!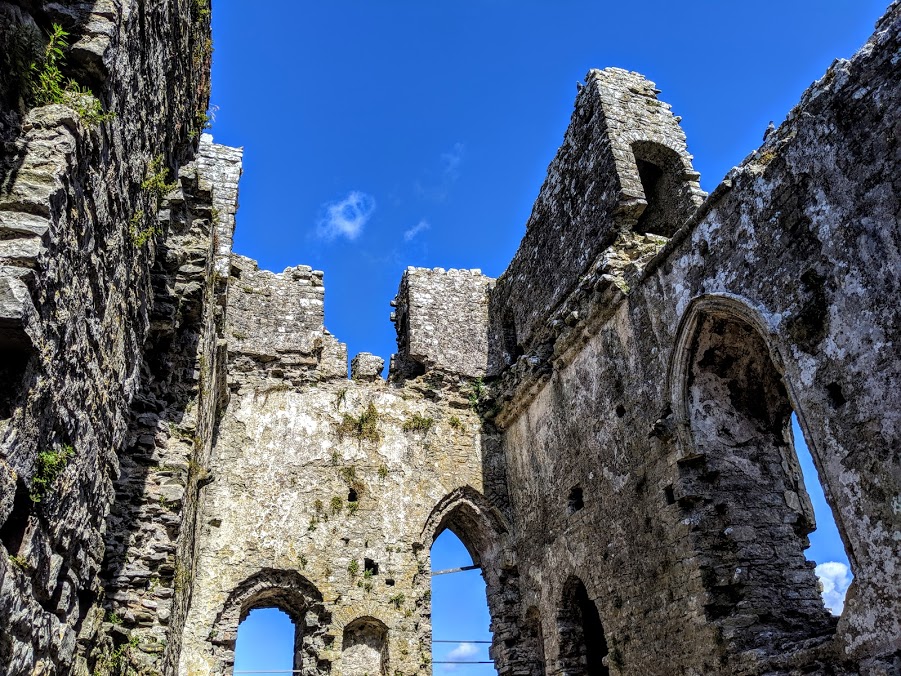 In 1642 the castle was garrisoned for Parliament, and the mayor of Pembroke town, John Poyer, rebuilt the castle defences. After the war, Poyer championed the cause of unpaid and disaffected Parliamentary soldiers.
Oliver Cromwell besieged the town and castle, and after holding out for 2 months, Poyer and his allies surrendered. Poyer was executed, parts of the southern towers were destroyed, and sections of the town walls were pulled down. As a result, Pembroke Castle was left little more than a romantic ruin, a magnet for artists keen to paint its picturesque walls and remaining towers.
I turned another corner and found the second love of my life, ice cream!
It was thanks to the efforts of Major-General Sir Ivor Philipps that Pembroke Castle was restored to the state we see today. Just before the Second World War Philipps undertook to finance a 10 year programme of restoration and archaeological investigation that helped bring the castle back to some semblance of its medieval grandeur.
Rooky mistake, selfie with a wet love sign in the background!