"For hiking is one of those things that you can only do when you have the determination in you." Unknown
About three weeks ago (I am very far behind on my blog at the moment, oops) I walked another part of the Wales Coastal Path this time with a dear friend in tow, amazingly I have not scared her off because she is doing some more walking with me. Sarah is incredibly fit puts me to utter shame, she is smart and oh so beautiful too. Must importantly she doesn't judge, something I am sure was put to the test during eight hours of walking with me!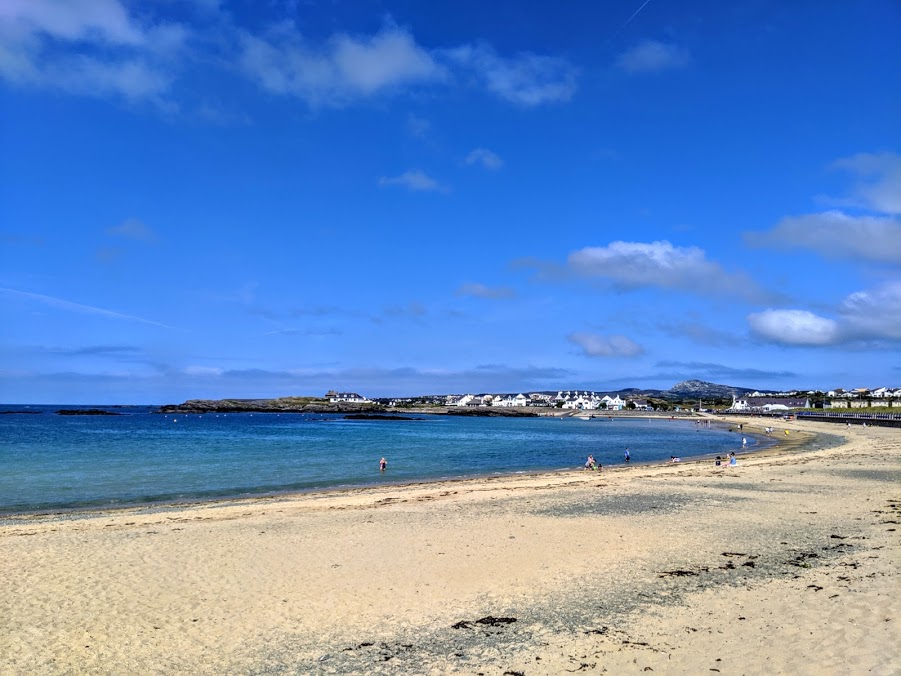 Baring in mind I usually walk alone in almost silence for the whole time, I felt like a kid in a sweet shop and took the opportunity to talk for the full 8 hours! Now the heading says 17 miles but once you add in that we got slightly lost and walked around in a massive circle it became 21 miles! 21 miles of me talking crap, excited to have someone that would listen. Having Sarah there made the whole experience of the coastal path completely different, at moments when I would be tired or want to give up she was there to encourage or to laugh at me. What would normally feel like a hard walk felt like a Sunday afternoon walk with a friend. As much as I enjoy the walk alone I love it with a friend.
The Wales Coast Path from Trearddur Bay to Rhosneigr completes the walk along Ynys Cybi, and brings you back onto the main island of Anglesey. This section is a variety of rocky coast, wide beaches and a couple of seaside resorts thrown in for good measure. A month or so ago I did Trearddur Bay to Holyhead which you can read here.
I fell in love with Wales at that point and decided to complete the coastal path. Another issue with Wales is that buses are very limited on a Sunday and in fact there were none where we wanted to walk, luckily we were able to use two cars. On my own I would not been able to do it without the aid of an expensive taxi. So we met in Rhosneigr, where I left my car and headed to Trarddur Bay in Sarah's car (team work).
From Trearddur Bay, the Wales Coast Path follows the rocky coast south with plenty of interest on the way. This includes the sandy coves at Porth Diana and Porth Castell. Further along you'll spot the natural rock arches of Bwa Gwyn and Bwa Du. Bwa Gwyn is Welsh for White Arch, and as it consists of white quartzite it's rather obvious why it's been named. Bwa Du is a more regular arch, and probably named in contrast to it's nonidentical twin.
Once past these landmarks, the path climbs gently to a high point of just over 60m at Rhoscolyn.  On the way, you'll pass St Gwenfaen's Well. This is an early medieval holy well which, if you add two white pebbles to its holy water, is reputed to cure mental illness. The church dedicated to St Gwenfaen can be found in nearby Rhoscolyn which is also called Llanwenfaen in her honour. One at the high point just beyond the well, you'll come to the coastguard lookout. Once glance at the coast with it's numerous rocky islands, and it's clear why you need someone looking out over such treacherous waters. The islets of Ynys Gwylanod, Seagull Island, and their navigational beacon can be seen nearby.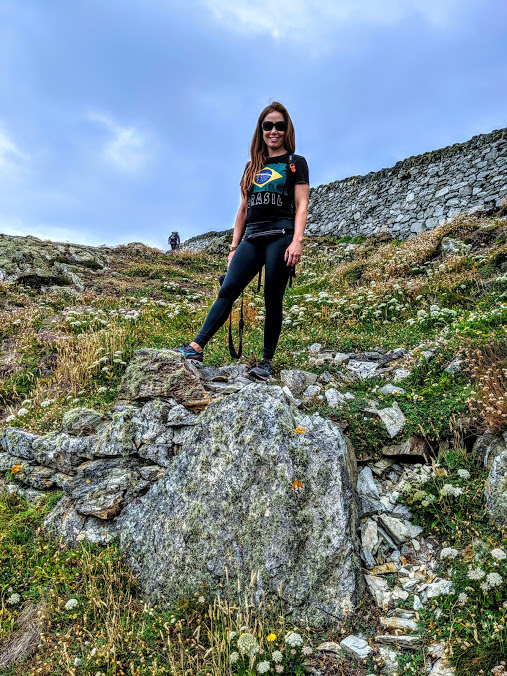 Rhoscolyn has a scenic bay known as Borthwen, with a quieter sandy beach than those found further north on the island. From here the coast path continues towards the fine beach at Traeth Lydan which is worth spending some time at. The Wales Coast Path heads inland from here, and doesn't return to the coast for another 4km or so just outside Four Mile Bridge as there's just no access here and one of the paths followed is a 'permissive' path.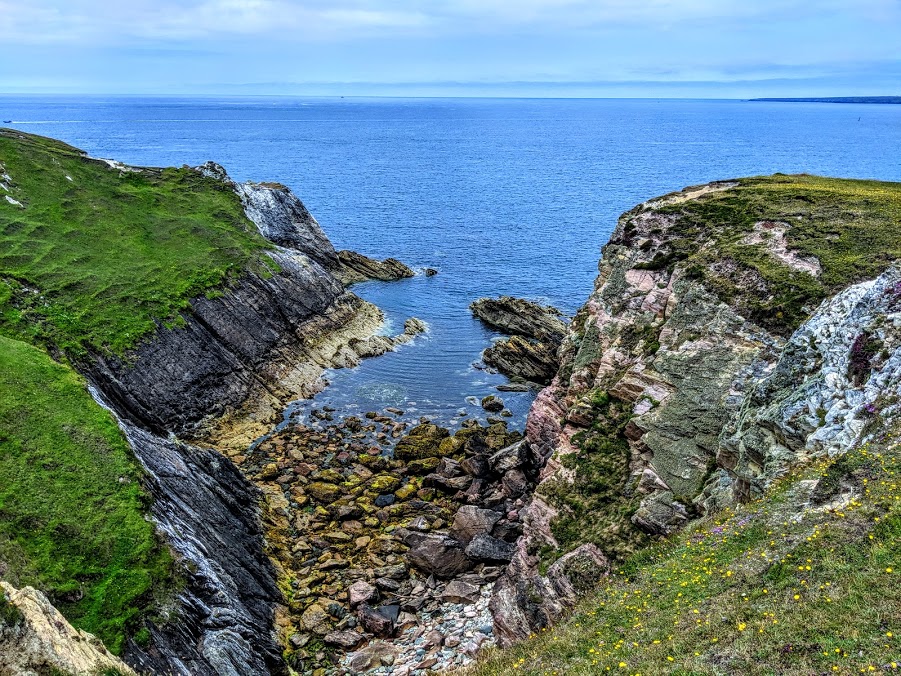 The village of Four Mile Bridge is so called as it is four miles from Holyhead on the original route onto the island that predates the Stanley Embankment crossed earlier on the Anglesey coast. The bridge here was in place by the 1530s and was the only crossing until the Stanley Embankment was built in the 1820s. The Welsh name of Pontrhydypont which is confusingly the bridge of the ford of the bridge, or some tautological name in that vein refers to the fact that this would have originally have been a ford used to cross from the main island to Ynys Cybi.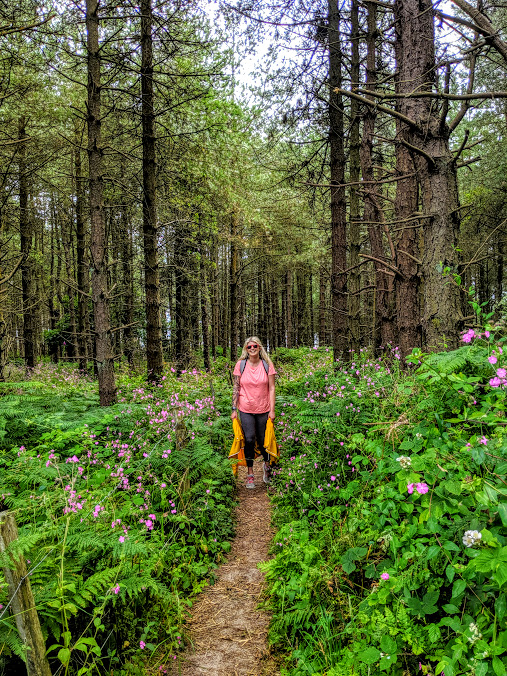 Nature being all Instagram ready!
Sarah spent the whole time explaining to me how my fear of being bitten by an adder was ridiculous, however nothing stopped me from walking a little faster through the long grass sections. My fear was fully justified at the end when a old lady sat in the bar we ended up in told us to stay out of the dunes because adders were biting dogs! Not sure if she was comparing us to dogs or she was actually worried by adders. Either way it made me feel a little better, also add to my list cows, sheep, goats and horses and you can see Sarah's job was an up hill battle! Side note, sheep have those little dark eyes, they scare me!

The faces of two women who can finally see the end of the path, as always the distance is twice as far as it looks! Sarah also learnt that I love rules and I stick to them! There was a short cut to the finish which meant missing a quarter of a mile of the coastal path out, I just couldn't do it! That wasn't the rules and I love a rule, like really love a rule. The path took us through the dunes, I might have been more inclined to skip it if I knew about the adders at this point!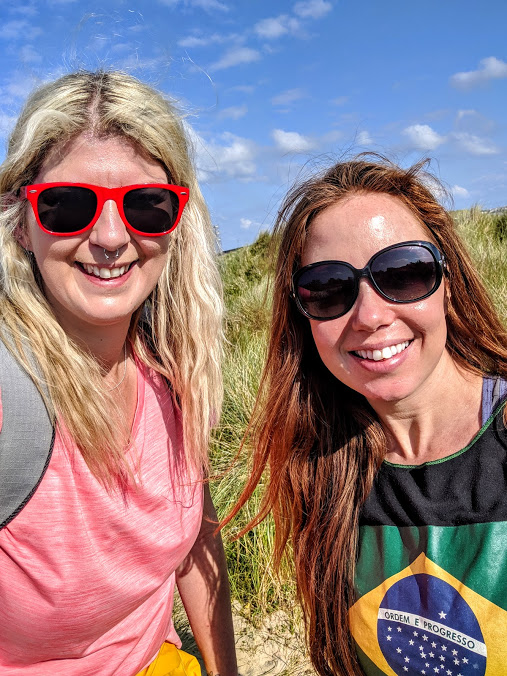 The Wales Coast Path crosses the Cymyran Strait at Four Mile Bridge and heads south along a confusing section that eventually finds you firmly back on the coast at Glan Rhyd Isaf. The route continues onto Traeth Cymyran which is next to RAF Valley. This is pure beach walking, and you'll be shaking the sand out of your boots by the time you reach Rhosneigr. The southern end of Ynys Gybi that you were walking on a number of hours ago is literally a stone's throw at Plas Cymyran.
Rhosneigr is a bustling seaside village with plenty of places to refuel, and of course the obligatory fish and chip shop or two!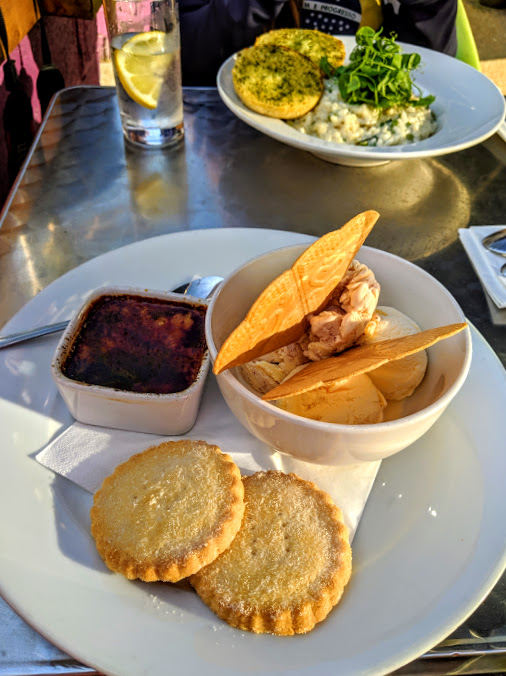 Of course I couldn't walk that far without a mega hit of sugar at the end! Pretty sure I ate all the calories I burnt during the walk with this plate of sugary goodness!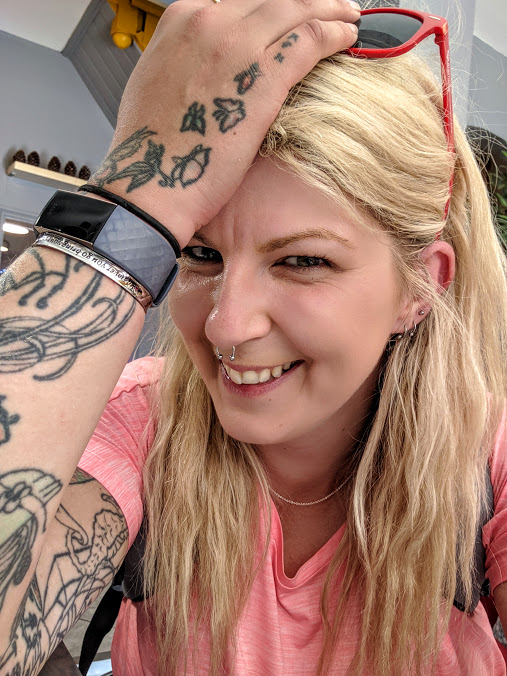 Not sure if this face is exhaustion, sun stroke or just very pleased with myself. Possibly a mix of all three!
We finished the walk just in time for sunset over the beach, naturally I had a little paddle in the sea because whats a coastal walk without actually paddling in the sea! And if anyone has ever walked the coastal path before you will know that the path is as much fields as it is actual coast! I would say this stretch was more fields then coast which is always slightly annoying.